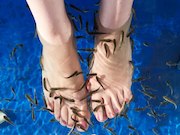 FRIDAY, July 13, 2018 — A woman lost several toenails after a fish pedicure, according to a case report published online July 3 in JAMA Dermatology.
Shari R. Lipner, M.D., Ph.D., from Weill Cornell Medicine in New York City, reports on a young woman presenting with nail abnormalities several months after a fish pedicure.
An examination revealed that the proximal nail plate was discontinuous with the distal nail plate on the bilateral first, second, and third toenails. The bilateral first toenails also showed disappearing nail beds. All of these findings were consistent with an onychomadesis diagnosis.
"While the exact mechanism is unknown, it is likely that direct trauma caused by fish biting multiple nail units causes a cessation in nail plate production," Lipner writes. "This case highlights the importance of skin and nail problems associated with fish pedicures and the need for dermatologists to educate our patients about these adverse effects."
Abstract/Full Text (subscription or payment may be required)
Posted: July 2018
Source: Read Full Article