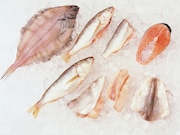 FRIDAY, Aug. 3, 2018 — If you love fish and you're pregnant, new research suggests eating lots of it might help you avoid delivering your baby too soon.
The researchers found that women who had the lowest levels of fatty acids from fish during their first and second trimester were 10 times more likely to have a preterm birth than women who had the highest levels of those fatty acids.
Study author Dr. Sjurdur Olsen, an epidemiologist from Harvard School of Public Health, said there are now three different types of studies linking consumption of the fatty acids in fish — known as long-chain omega-3 fatty acids — with better outcomes.
"Taken together, [these studies] substantiate the notion that if you have a lower intake of long-chain omega-3 fatty acids, increasing your intake will lower your risk of preterm birth," Olsen said.
Approximately 15 million babies worldwide are born premature each year, according to the March of Dimes. In the United States, almost one in 10 babies is born prematurely, putting them at risk for serious health problems.
The exact cause of preterm birth is still unknown, according to the study authors. Researchers have noted that in certain areas with high fish consumption, pregnancies seem to last longer. This spurred the initial research into why and how eating more fish might help reduce preterm births.
The latest study looked at births in Denmark from 1996 to 2002. The data included information on more than 100,000 pregnancies. From that large group, the researchers looked for women pregnant for the first time who were only pregnant with one child. They excluded women with pre-existing health or pregnancy conditions that could increase the risk of preterm birth.
The investigators ended up with 376 women who delivered before 34 weeks of gestation and, for comparison, a group of 348 women who didn't deliver early. All of the women had blood samples taken in the first and second trimester of pregnancy.
These samples measured the amount of long-chain fatty acids — in particular, those commonly known as EPA and DHA — in the women's blood.
EPA and DHA are primarily found in fish and other seafood, especially cold water fish such as salmon, mackerel, tuna, herring and sardines, according to the U.S. Office of Dietary Supplements. These fatty acids are also found in nuts and seeds, plant oils and foods that have been fortified, such as orange juice and certain dairy products.
Based on the amount of these fatty acids, women were placed into one of five groups, representing the lowest levels to the highest levels.
Women with the lowest levels had a 10 times higher risk of early birth than women who had the highest three levels of omega-3 fatty acids. Women in the second lowest group had a 2.7 times higher risk than women with higher levels, the findings showed.
Olsen said because the researchers only measured blood levels of the fatty acids, it's not clear how much fish or fish oil the women may have consumed.
How these fatty acids might prevent preterm birth isn't yet known. This study was only designed to find an association, not cause and effect. But one theory is that these fatty acids may reduce inflammation, which somehow reduces preterm birth risk, Olsen said.
Dr. Kelle Moley, senior vice president and chief scientific officer for the March of Dimes, which funded the study, said these fatty acids are really important building blocks for certain cells. "A lack of these fatty acids may cause cellular stress on the placenta or maternal side," she said.
Whatever the possible mechanism, Moley noted that the study showed a strong correlation between low levels of these fatty acids and a higher rate of preterm birth.
"We should probably be making sure that women have these fatty acids in early pregnancy and throughout pregnancy," Moley said. She added that, ideally, women might start eating more fish or taking supplements before getting pregnant.
The one caveat is that there is concern about eating fish during pregnancy because some fish contains elevated levels of mercury. The good news is that most of the fish that contain the high levels of omega-3 fatty acids are on the U.S. Food and Drug Administration's "Best Choice" list for pregnant women. The FDA recommends that pregnant women eat two to three servings of fish from the best choice list weekly. A serving is four ounces.
The report was published online Aug. 3 in EBioMedicine.
More information
Learn more about having a healthy pregnancy from the U.S. Office on Women's Health.
Posted: August 2018
Source: Read Full Article