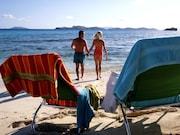 WEDNESDAY, Aug. 1, 2018 — Sunscreen washing off swimmers may pose a threat to fish and other aquatic life, a new study suggests.
Ultraviolet (UV) filters have been added to many personal care products, including sunscreens, moisturizers and makeup. And swimmers, in particular, are advised to reapply sunscreen often or risk a painful and potentially harmful sunburn.
But scientists have now begun to question how these chemicals affect sea life. And the news isn't good: Researchers in China are reporting abnormalities in the offspring of zebrafish exposed to some of these UV filters.
In Hawaii this month, Gov. David Ige signed a bill banning sunscreens containing chemicals harmful to coral reefs. As of January 2021, over-the-counter sunscreens containing oxybenzone and octinoxate can no longer be sold or distributed in the Aloha state.
That move — the nation's first — was based on research showing the presence of those chemicals in Hawaiian waters cause bleaching, DNA damage and death in coral.
For the Chinese study, researchers assessed levels of nine UV filters in waters off Shenzhen, China. Shenzhen has more than 20 popular recreational beaches.
The researchers found seven of the nine chemicals in surface waters such as public beaches, a harbor, a reservoir and tap water.
The researchers then fed adult zebrafish with brine shrimp that had been exposed to three of the most common UV filter chemicals, alone or in mixtures.
The adult zebrafish suffered no obvious problems, but abnormalities were found in their offspring. The defects mostly occurred with longer-term exposure (47 days) and with chemical levels higher than what's likely to occur in the environment, the scientists said.
The effects of individual UV filters and mixtures of the chemicals varied in often-unpredictable ways, concluded Kelvin Sze-Yin Leung, of Hong Kong Baptist University, and colleagues.
The study can't prove a cause-and-effect relationship. Still, the researchers suggested further studies are needed to determine how these chemicals may affect the environment.
The study was published Aug. 1 in the journal Environmental Science & Technology.
More information
The Natural Resources Defense Council has more on water pollution.
Posted: August 2018
Source: Read Full Article