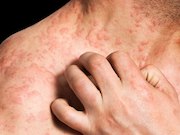 MONDAY, July 16, 2018 — Itching, blisters, sores and inflammation are a continuous and debilitating source of pain, shame and misery for many people who struggle with the allergic skin disease known as eczema, researchers say.
And a new survey suggests that many of those battling moderate-to-severe eczema suffer from an inability or reluctance to engage in activities and socializing, which leads to a considerably diminished quality of life.
For some eczema patients, their quality of life is poorer than those who have a wide range of other chronic health issues, including heart disease, diabetes and high blood pressure, the researchers added.
"The more severe the atopic dermatitis [eczema], the worse the overall health, quality of life and life dissatisfaction," said study author Dr. Jonathan Silverberg.
"I see some of the toughest cases of atopic dermatitis around, so I can't say I was terribly surprised by this," Silverberg explained. "But I think most people who don't live with atopic dermatitis are surprised to hear just how debilitating it can be."
Silverberg serves as director of the Northwestern Medicine Multidisciplinary Eczema Center and the Contact Dermatitis Clinic at Northwestern Memorial Hospital, in Chicago.
According to the National Eczema Association, roughly 30 million Americans — ranging from infants to seniors — suffer from one of several different forms of the skin disease.
The exact cause remains elusive, and there is no known cure. And though topical drugs and immunotherapy can help manage the condition, treatment is complicated by the fact that "no two eczema patients are exactly alike," Silverberg said.
"For most patients, flares can come for no apparent reason at all," he noted. "Many patients are looking for that one [environmental] trigger they can avoid to cure their atopic dermatitis. For most, it doesn't exist."
And that means that patients with different triggers and different degrees of severity and symptoms will require a different "tailored treatment approach" for what will likely end up being a long-term chronic disorder, said Silverberg.
The survey of just over 600 eczema patients (with mild, moderate, or severe disease) revealed one all-too-common thread: a broad dissatisfaction with one's life.
Nearly three-quarters of those polled were white. Just over half had mild eczema, nearly four in 10 had a moderate condition, and just over 8 percent described their condition as severe.
Pooled together, about one-quarter said they were in fair health, while nearly 16 percent described their overall health as poor, the findings showed.
Among those with severe disease, about 35 percent said they were either in fair or poor health, while almost one-third said they were somewhat or very dissatisfied with life.
But even among those with mild eczema, nearly 18 percent said they avoided socializing because of their appearance, while 23 percent limited their daily activities. Those figures shot up to 40 percent and 43 percent, respectively, when moderate and severe patients were included.
The most effective way patients can limit eczema's impact on quality of life is to "seek care earlier and aim for tighter control of their symptoms," Silverberg advised.
"Some patients may say to themselves 'it's not so bad,' and not seek care," he said. "Then they end up suffering in silence as things worsen and they eventually get to a point of desperation, and at that point have a much harder time treating their disease."
The impact that eczema can have on life satisfaction is not lost on Dr. Richard Gallo, chairman of dermatology at the University of California, San Diego.
"We have long known that eczema has an enormous impact on the quality of life, not only for the patient but also on parents of children with eczema," he said.
Still, "there is good news for eczema patients because of new scientific understanding of the cause and treatment," Gallo added. On that front, he highlighted work currently underway exploring the potential benefits of using probiotics applied to the skin.
But, Gallo said, "eczema is complex and patients really need to talk carefully to their doctor to understand the type and causes of their eczema."
The study was published July 16 in Annals of Allergy, Asthma and Immunology.
More information
For more on eczema, visit the U.S. National Institute of Allergy and Infectious Diseases.
Posted: July 2018
Source: Read Full Article