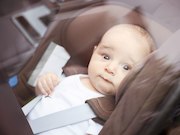 SATURDAY, July 7, 2018 — Every nine days, a child dies in a hot car in the United States, but a safety expert says such tragedies can easily be prevented.
"Three letters can help drivers remember to take proper safety precautions with children when traveling in the car: A, C, T," said Susan Katz, coordinator of the pediatric injury prevention program at Stony Brook (N.Y.) Children's Hospital.
A: Avoid heat-related injury and death. Never leave a child alone in a car — not even for a minute. "And make sure to keep your car locked when you're not in it, so children don't get in on their own to play," Katz said in a hospital news release.
C: Create reminders. "Put something in the back of your seat of your car, next to your child such as a briefcase, a purse or a cell phone that is needed at your final destination," Katz suggested. Or set an alarm on mobile devices that will go off soon after the expected arrival time at your destination. Reminders are especially important if you're not following your normal routine or if you're distracted or overwhelmed.
T: Take action. "If you see a child alone in a car, call 911," Katz said. "Emergency personnel want you to call. They are trained to respond to these situations. One call could save a life."
Young children are particularly vulnerable to heatstroke, because their bodies heat up three to five times faster than an adult's, Katz said.
That's why you should also look before you lock your car.
"Get in the habit of always opening the back door of your vehicle every time you reach your destination to make sure no child has been left behind," Katz said. "This will soon become a habit and your small passengers will be safe."
Between 1990 and 2017, 836 children died in hot cars in the United States, according to KidsAndCars.org.
More information
The American College of Emergency Physicians has more on children in hot cars.
Posted: July 2018
Source: Read Full Article