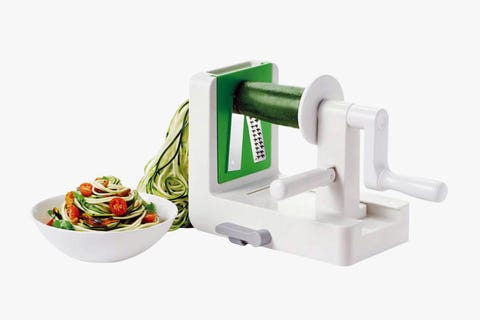 OXO Good Grips
Buy Now
Pros: Affordable, easy to assemble, works with a variety of shapes
Con: No built-in blade storage
Bottom Line: This versatile option includes all the basics with blades that are easy to swap.
This unit includes three blades for spaghetti-, fettuccine-, and ribbon-style noodles, which are pretty much all you need when you're just starting out. The blades come with a container to keep them safe, but the storage isn't built-in, so you'll have to keep track of them separately from the actual crank.
The hand-crank style allows you to work with more than just oblong veggies — you can also use this one to spiralize potatoes, beets, butternut squash, and even apples. Plus, a suction cup underneath the base keeps it securely fastened to the countertop, so there's no risk of the spiralizer slipping and sliding around.
LEARN MORE
2. The Inspiralizer Spiralizer by Inspiralized — $34.95
Best for Versatility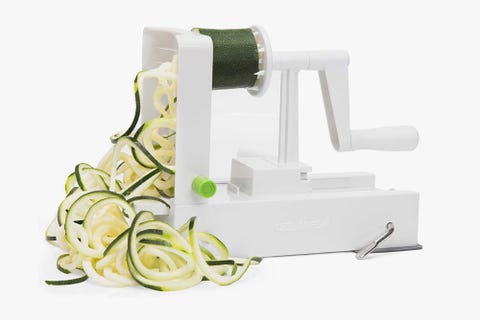 Inspiralized
Buy Now
Pros: Affordable, built-in blade storage, four blade options
Con: A bit bulky for storage
Bottom Line: The Inspiralizer's four blade options and no-slip suctioned base make it a versatile and safe choice for anyone to use.
Whether you're a spiralizing pro looking to take your creativity to the next level or a total newbie who just wants to have options, The Inspiralizer gives you more choices than any other spiralizer. With four different blades, you can get exactly the size and texture you want from your veggies. Choose from four different thicknesses of noodles: Ribbon, fettuccine, linguine, and spaghetti. We love the idea of spiralizing bell peppers for a bright, colorful, and delicious raw veggie salad.
This one also suctions to the countertop to stop slippage, and the base has a built-in safety cover that protects fingers from sharp blades and ensures safe handling. Plus, it's super easy to clean, thanks to parts that are completely dishwasher-safe (top-rack only).
LEARN MORE
3. OXO Good Grips 3-Blade Hand-Held Spiralizer — $24.70
Best Handheld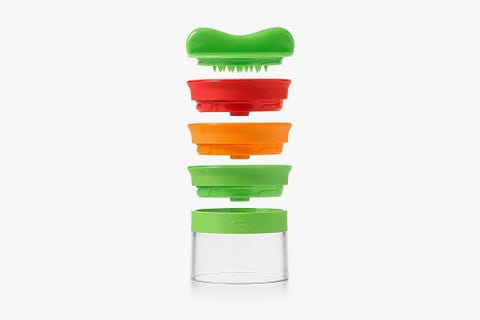 OXO Good Grips
Buy Now
Pros: Space-saving, multiple blades, easy-to-use, affordable
Con: Doesn't work as easily for round veggies
Bottom Line: This is a perfect option for small kitchens, and it works best for zucchini-shaped foods.
Handheld spiralizers don't take up the same amount of real estate in a kitchen, but there are some slight limitations to using them that you'll want to take into consideration. This particular spiralizer has an open design that accommodates some, but not all, larger/rounder vegetables. It can also be difficult to spiralize super dense veggies like beets, rutabaga, and celeriac, because you have to rotate them by hand (and they may not fit the opening of the blade). However, it works phenomenally well for zucchini, cucumbers, and even carrots.
This model can be purchased with a single-, double-, or triple-blade attachment. We recommend the triple one for greater versatility, but if you're just going to be spiralizing zucchini noodles, the single one is great, too!
LEARN MORE
4. KitchenAid Vegetable Spiralizer Attachment — $74.99
Best Attachment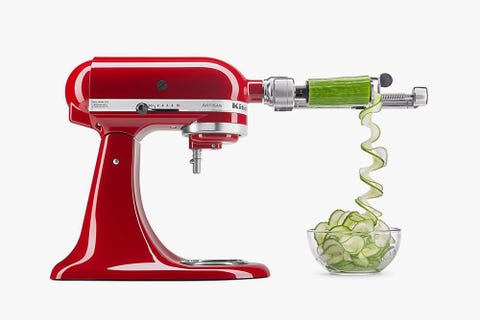 KitchenAid
Buy Now
Pros: Space-saving, easy to use, can peel the rinds off
Cons: Pricey, must have a KitchenAid stand mixer, doesn't use the entire vegetable
Bottom Line: This spiralizing attachment for the KitchenAid stand mixer does double duty as a peeler and a spiralizer.
Whereas most spiralizers are only able to situate a vegetable flat against a blade, this attachment also comes with a curved blade attachment that can be used to peel fruits and veggies — even while it spiralizes (there's a great video showing how this works, posted by an Amazon customer in the comments section!). It utilizes the motor and mixing motions of the stand mixer to power the blades.
The attachment can handle fruits and veggies of pretty much any size, and it actually cores them as they spin. This can be viewed as a positive or a negative, depending on what you're spiralizing. We find it can be super helpful for things like apples, but it does end up wasting a small portion of veggies (like zucchini) that don't need to be cored.
LEARN MORE
5. BELLA Hands-Free 4-in-1 Electric Spiralizer — $25.99
Best Electric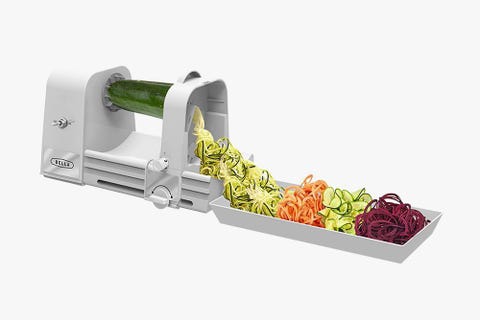 BELLA
Buy Now
Pros: Hands-free
Cons: Requires an outlet, only holds a maximum of 6-inch-long ingredients
Bottom Line: This unit pretty much does all the work for you.
Most electric spiralizer models stand upright with a chute that allows you to press the ingredients down and a bowl that catches all the noodles. However, this leads to moisture buildup that can turn the veggies soggy. This unit is our number-one pick for electric models specifically because it's built like the classic crank spiralizers, which allow the noodles to cascade and lay flat, instead of piling up on each other.
You'll get maximum versatility from four blade options for varying types of noodles, and you won't have to do much work with an electric motor that does all the spinning for you. That's right — no hand-cranking necessary! It also has an auto-stop feature that turns the motor off once the vegetable is completely spiralized. The one downside is that it can only hold fruits and veggies that are up to 6 inches in length, which means you may have to trim down larger ingredients.
LEARN MORE
From: BestProducts
Source: Read Full Article