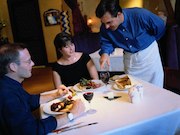 WEDNESDAY, July 18, 2018 — Having a late dinner and heading straight to bed may boost your risk of breast or prostate cancer, a new study suggests.
Spanish researchers analyzed data from 621 prostate cancer patients and 1,205 breast cancer patients, as well as 872 men and 1,321 women without these cancers.
People who ate their evening meal before 9 p.m. or waited at least two hours after supper before going to sleep had a 20 percent lower cancer risk than those who ate supper after 10 p.m. or those who ate and went to bed soon after, according to the study.
The research only found an association and does not prove late-night eating causes these cancers.
"Our study concludes that adherence to eating patterns [during the day] is associated with a lower risk of cancer," said lead author Manolis Kogevinas, a researcher at the Barcelona Institute for Global Health (ISGlobal).
The findings "highlight the importance of assessing circadian rhythms in studies on diet and cancer," Kogevinas said in an institute news release.
If the findings are confirmed, "they will have implications for cancer prevention recommendations, which currently do not take meal timing into account," Kogevinas said.
He added that the impact could be especially important in places like southern Europe, where people have supper late.
More research is needed to understand the findings, but co-author Dora Romaguera said that "everything seems to indicate that the timing of sleep affects our capacity to metabolize food." Romaguera is a researcher at ISGlobal.
Though extensive research has probed links between types of food and cancer risk, little attention has been paid to how cancer risk might be affected by mealtimes and what people do before and after eating, the study authors said.
The study was published July 17 in the International Journal of Cancer.
More information
The U.S. National Cancer Institute has more on diet.
Posted: July 2018
Source: Read Full Article