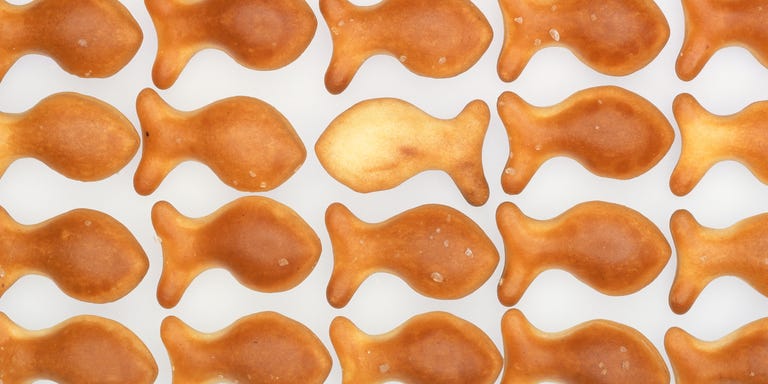 On Monday, Pepperidge Farms issued a recall for Goldfish products containing whey powder, which may carry salmonella bacteria, according to the ingredient's manufacturer. The flavors include blasted xtra cheddar, flavor blasted sour cream and onion, baked with whole grain xtra cheddar, and mix xtra cheddar and pretzel.
The ingredient in question is also found in 16 cheese-flavored Ritz Cracker products, which were recalled on July 21 by their manufacture, Mondelēz Global, due to risk of the same bacterial contamination, and in a variety of swiss rolls sold by Flowers Foods Inc. under various brand names, which were recalled on July 20.
Salmonella, which stems from the intestinal tracts of infected animals and humans, is typically spread when someone handles feces then food without practicing proper hygiene, i.e., scrubbing the hands thoroughly with soap and warm water for at least 20 seconds, according to the U.S. Department of Agriculture.
Cooking foods can reduce the risk of salmonella contamination, since heat destroys the bacteria. But because you probably don't cook snacks like crackers and packaged pastries, the presence of harmful bacteria in these pre-made foods can pose particular risks for consumers—especially since the food's taste, smell, and appearance are rarely affected.
Although these recent recalls were precautionary rather than in response to reports of illness, you should trash any recalled items you happen to have in your pantry. You can reach out for a Goldfish refund here.
Cheese + grater = greater flavor. ?
A post shared by The official Goldfish® brand (@goldfishsmiles) on
And if you've already eaten a recalled product? Look out for symptoms of salmonella infection like fever, diarrhea, nausea, vomiting and abdominal pain, which can affect even healthy people, and lead to more serious infections in very old or young patients. Symptoms tend to kick in 12 to 72 hours after exposure and last for four to seven days, according to the U.S. Centers for Disease Control, which notes that typically, no antibiotic treatment is required. As usual, call your doctor if you're concerned—particularly if you have a fever higher than 101.5 degrees Fahrenheit, prolonged vomiting that prohibits you from keeping liquids down, or signs of dehydration like dizziness.
Follow Elizabeth Narins on Twitter and Instagram.
Source: Read Full Article