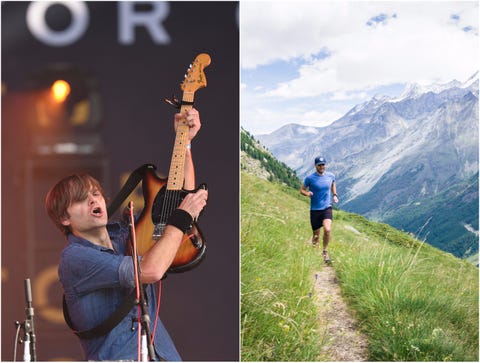 When Death Cab for Cutie frontman Benjamin Gibbard discovered ultrarunning in 2011, he couldn't have been more unprepared.
Gibbard had completed his first marathon in Los Angeles earlier in the year, a major accomplishment he then considered to be the pinnacle of human endurance. So when he registered for a 30k (about 18.6 mile) race at San Francisco's Marin Headlands, the indie rock icon assumed he wouldn't be as challenged by the shorter distance.
He was wrong.
"I showed up at the race, and it's this massive green space, just hundreds of thousands of acres of trails and stuff," Gibbard told MensHealth.com. "I turn to some guy and I'm like, 'Hey, where's this race going? The road goes the other direction?' He looked at me like I was an idiot. 'Dude, we're going up there, it's a trail race.' I was like, what?"
Took a leisurely 22 mile stroll along the PCT today with Mr. James Varner. Swam in an alpine lake, kicked it with some marmots. #cascadia
A post shared by Benjamin Gibbard (@gibbstack) on
Trail and ultrarunners traverse terrain you'll never find on standard city marathon courses, following paths through hills, mountains, and everything else the great outdoors can throw at them. Races range from 30k events to grueling tests of will and stamina of up to 100 miles and more, which can take more than 24 hours to finish (a seasoned veteran now, Gibbard's best 100 mile time is 25:18:28).
That first 30k run was a rough one for Gibbard. "I was wrecked at the end of it," he admitted. "But I was totally hooked. I was like, what is this sport?"
Now, seven years and thousands of trail miles later, with Death Cab for Cutie's ninth studio album Thank You For Today ready for release, Gibbard shared how running has affected his life as a musician.
Running to Change
After almost a decade of near-constant touring, Gibbard found himself in a fitness rut back in 2007. "I remember being on this elliptical and thinking about how boring this was, and then looking over at the treadmill and thinking, 'You know, I wonder if I can run 2 miles,'" he said. "It was just going to start like that, it was never an, 'I'm going to change my life' type of moment."
Even though he didn't make a conscious decision to change his behavior at that point, Gibbard would eventually leave the rock and roll lifestyle behind, getting sober and refocusing his priorities. By 2011, he had set himself on the path to ultrarunning.
I killed this guy 9 years ago today and he's never coming back. #soberlife
A post shared by Benjamin Gibbard (@gibbstack) on
Gibbard threw himself totally into the sport, finishing his first 50-mile race in 2013, then his first 100km and 100-miler the next year. "I'm kind of an off or on kind of person," Gibbard admitted.
To even train to compete in ultra races, you most certainly have to be on; the lead-up regimen alone calls for hours-long sessions of running dozens of miles per week. That's a rough task for anyone, let alone the frontman of an internationally-renowned touring rock band. Gibbard has to fit his runs in on the road, finding trails and courses along the way.
There's no way to be cocky. Because you're gonna get got. You're gonna get humbled.
But for Gibbard, all the hard work is worth it. He considers his training sessions a crucial opportunity to shift his focus away from his work.
"[Running] has provided me a way to remove myself from the creative process for periods of time," he reflected. "There was a time in which music was pretty much the only thing in my life. If I was working on a piece of music, I never put it aside…I feel like I've gotten so much better perspective on my work when I'm allowing myself to walk away from it and then come back with fresh ears."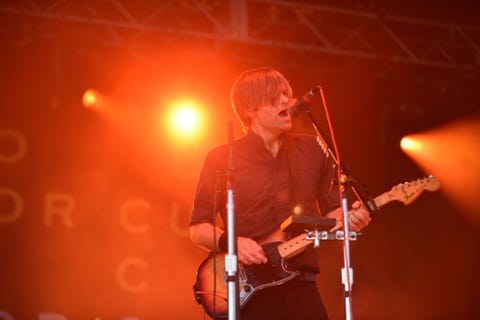 Gibbard performing with Death Cab For Cutie in 2016.

Getty ImagesThomas Cooper
To step away from music even further, he prefers NPR and baseball podcasts to playlists on long runs. Gibbard says he avoids tunes because "music marks time," which can drag on during a full day on the trail. One example of his favorite programming: A 12-hour Star Wars radio play from his childhood in the early '80s he put on 30 miles into his first 100 mile race.
Even though he might not intend for this to be the case, Gibbard's music appears to have been affected by his hobby. His lyrics have long fixated on the concepts of distance and the passage of time — "Distance, both metaphorical and literal, has always been very interesting to me creatively," he admits — but in Death Cab For Cutie's new album, Thank You For Today, the themes are more present than ever, with a steady, driving beat that runs throughout its songs like a pacer and a fixation on places and the seasons. All it takes is a look at the track list to see the evidence; one of the songs is actually named "Near and Far."
deathcabforcutie.com
A post shared by Death Cab for Cutie (@deathcabforcutie) on
Perhaps the greatest impact that running has had on Gibbard is the activity's ability to create a kind of inner peace, an intense state of being that he calls a "type of zen place."
During his first 100 mile race, Gibbard entered that zone. "Everything fell away, and it was just this zone where the only thing that existed in the world was my body and this trail that I was following. And I was going to follow it until it ended," he said. "It was a moment that I think people meditate to get to, they use psychedelics to get to…. Ultrarunning is what has taken me there."
Joining the Foot Travelers
Gibbard is far from alone in chasing that feeling. He's proud to be a part of the vibrant, eclectic community of ultrarunners.
"It's this really amazing community of people who come from all walks of life, and who just share this beautiful craft," he said. "It completely strips you of your ego — even the best ultrarunners still are humbled by the mountains or the trails. There's no way to be like Usain Bolt out there. There's no way to be cocky. Because you're gonna get got. You're gonna be humbled."
When Gibbard talks about running, he doesn't sound like a man fixated on first-place finishes or record times in every race. His pursuit is clearly more the journey itself.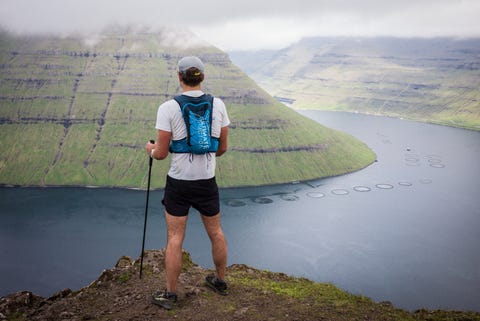 Gibbard overlooking the Faroe Islands.

Rachel Demy
"There's a level of physical training you need to accomplish it, but it's 10 percent physical and 90 percent mental," he said. "It's something that you want to do because you just want to see if you can do it. Obviously I think we're all athletes — but I don't think of us as athletes. I think of us as a different breed of foot traveler."
Source: Read Full Article