National pizza chains serve some of the worst pizza in America. Similarly, some of the most widely known fast food restaurants serve the worst food. We've rounded up eight pizza chains serving the worst pies in America. Ahead, find out if one of these chains is in your town. Keep in mind, these chains are in no particular order. We'll also take a quick look at the best pizza places in America and the cities they're found in.
Papa John's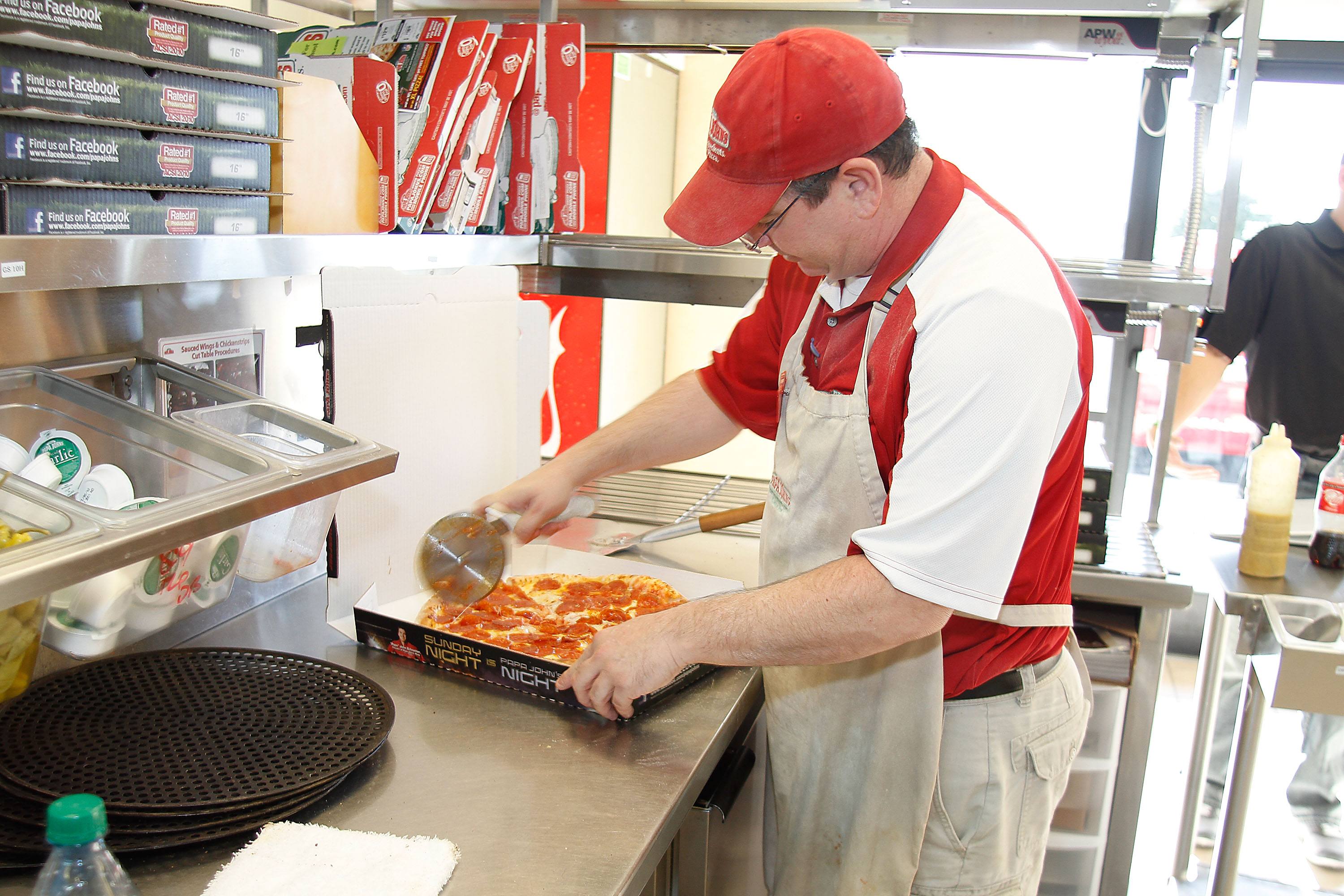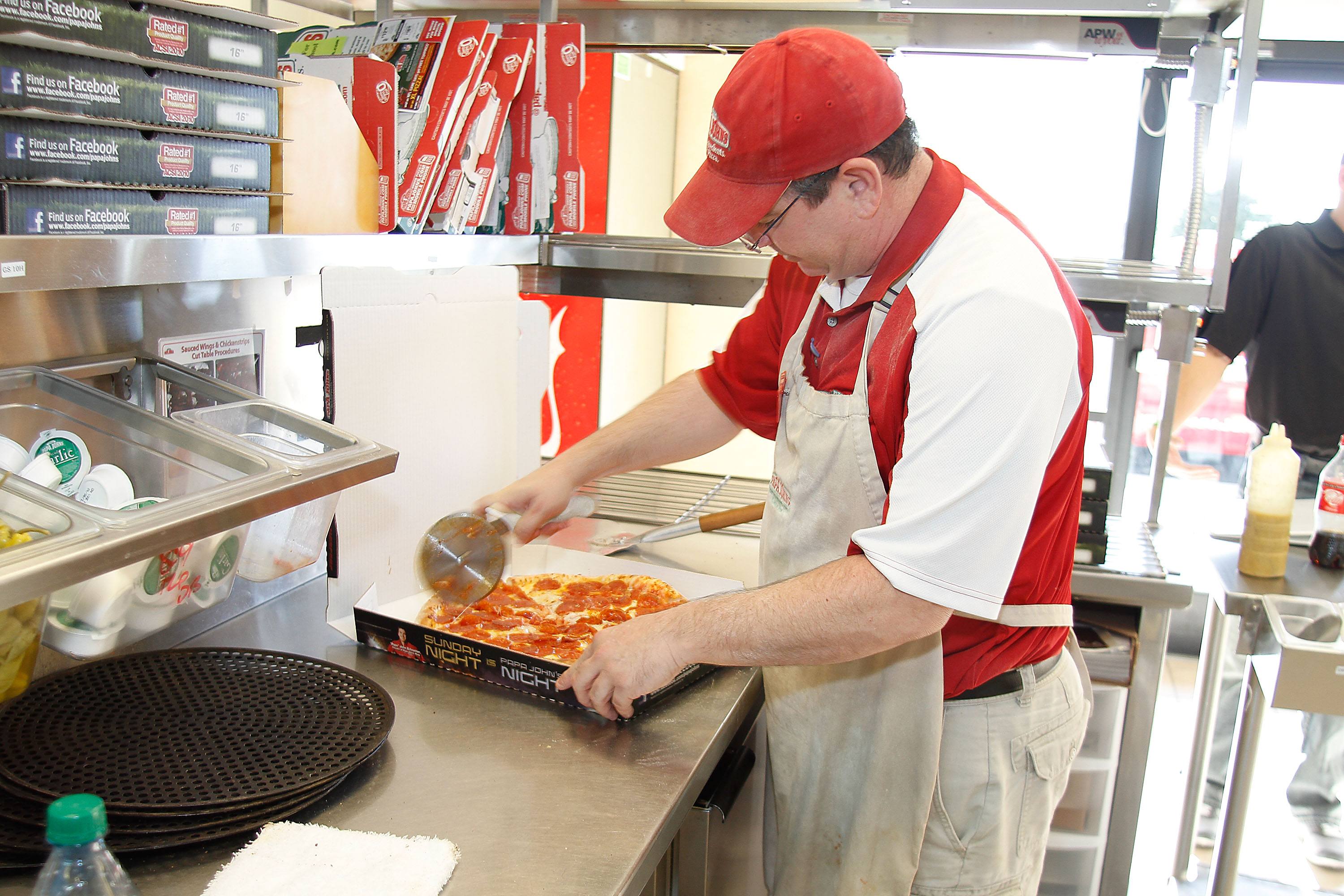 Some say the pizza is too expensive for what you get. | Mike Moore/Getty Images for Papa John's
Named Pizza Chain Brand of the Year by The Harris Poll EquiTrend, Papa John's makes our list as one of the worst pizza chains in America. The "pizza is nasty," a former employee writes on the job site, Glassdoor. Papa John's has "expensive food," a delivery driver says. Expensive, nasty pizza is the last thing anyone wants. Pass up this chain the next time you have a hankering for pizza.
Little Caesar's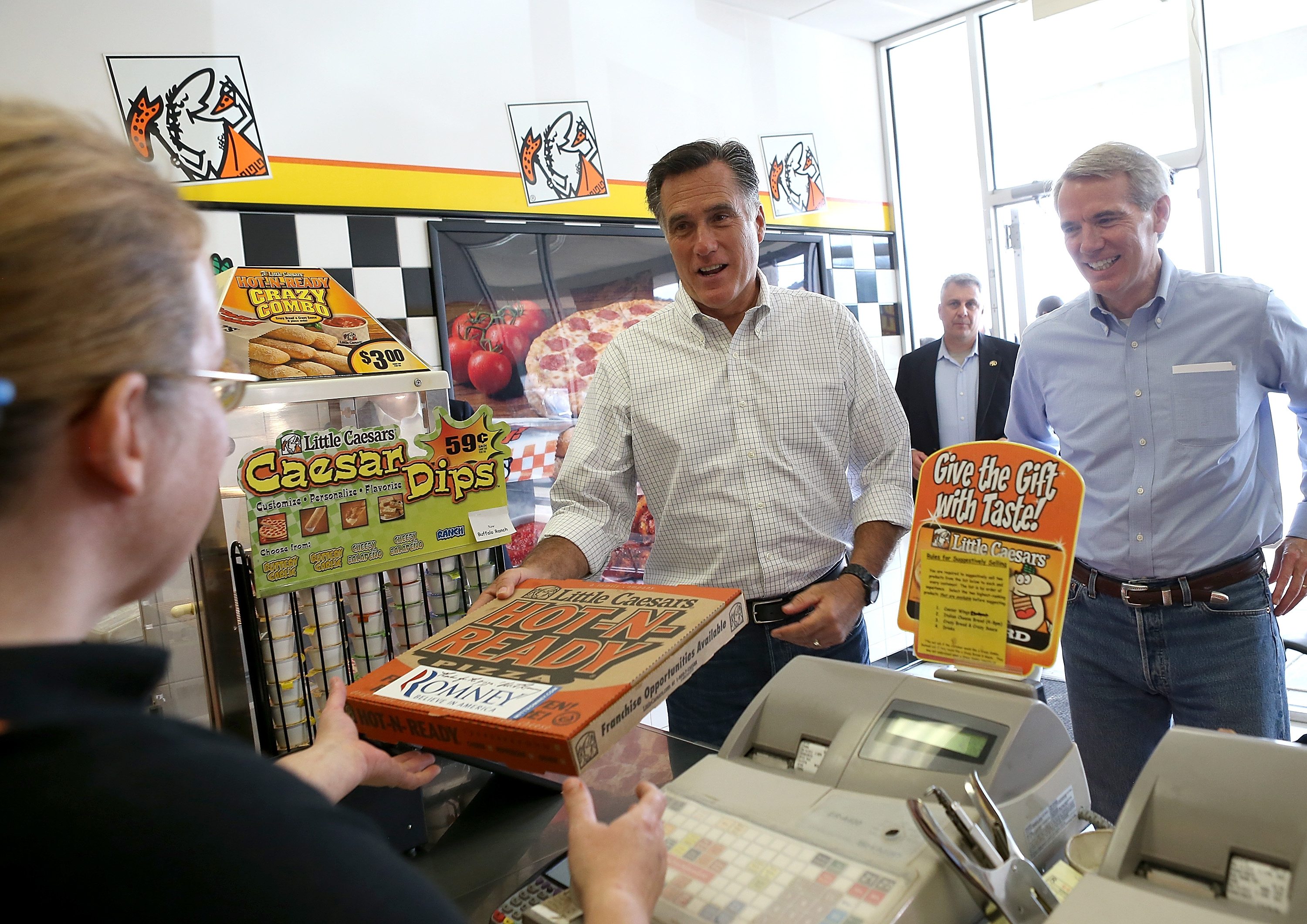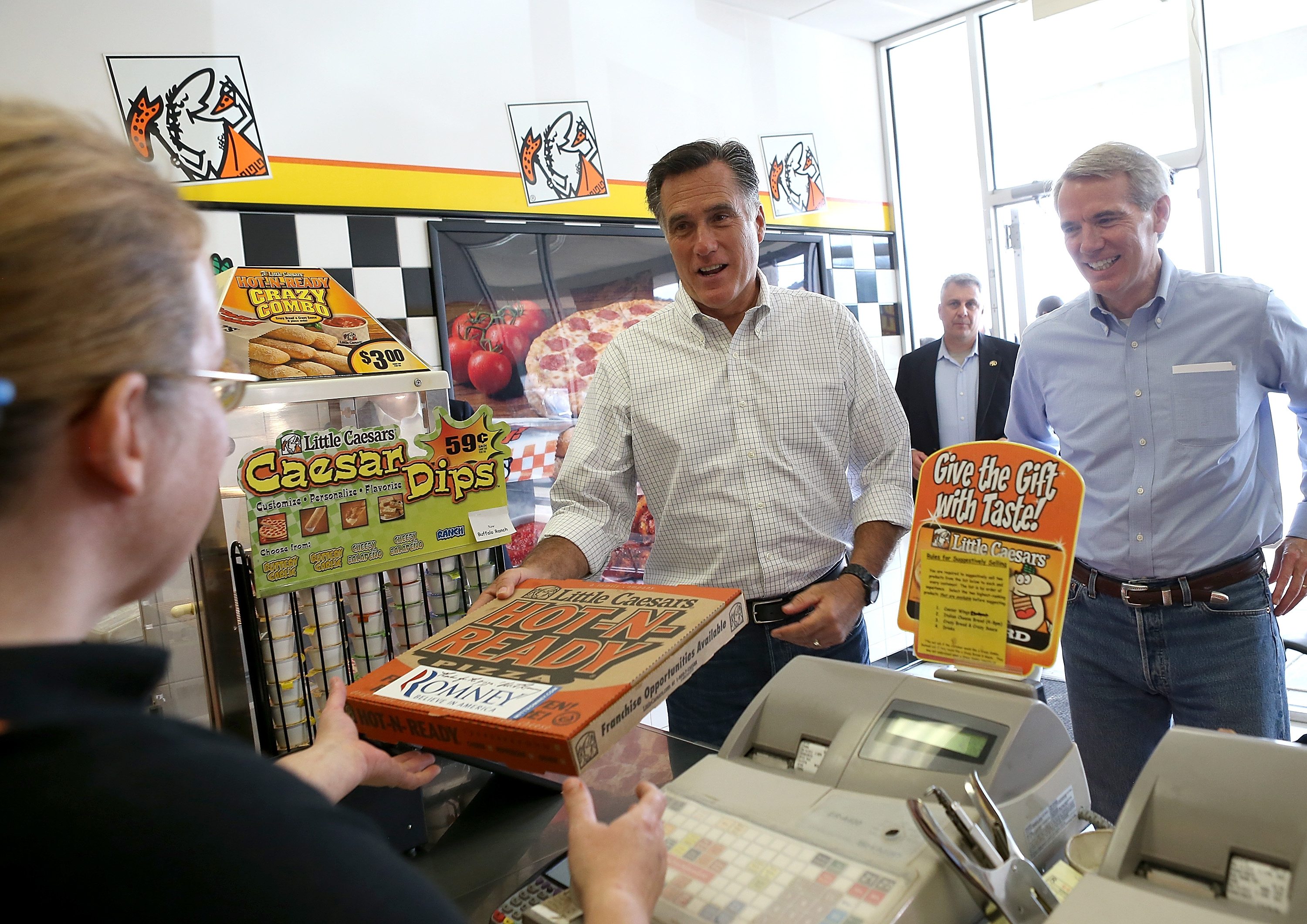 You get what you pay for. | Justin Sullivan/Getty Images
I grew up eating Little Caesar's Hot 'n Ready pizzas. The low cost and convenience factor is sometimes still too good to pass up. Although the old saying, "you get what you pay for" is true with Little Caesar's. A $5 pizza isn't anything special. The cheese only and pepperoni pizza options are dismal. For those who order higher priced pizzas, they're memorable for bad reasons only. Somehow, none of the pizzas ever seem fresh. To add insult to injury, the sauce is a nightmare for those who suffer from heartburn.
Pizza Hut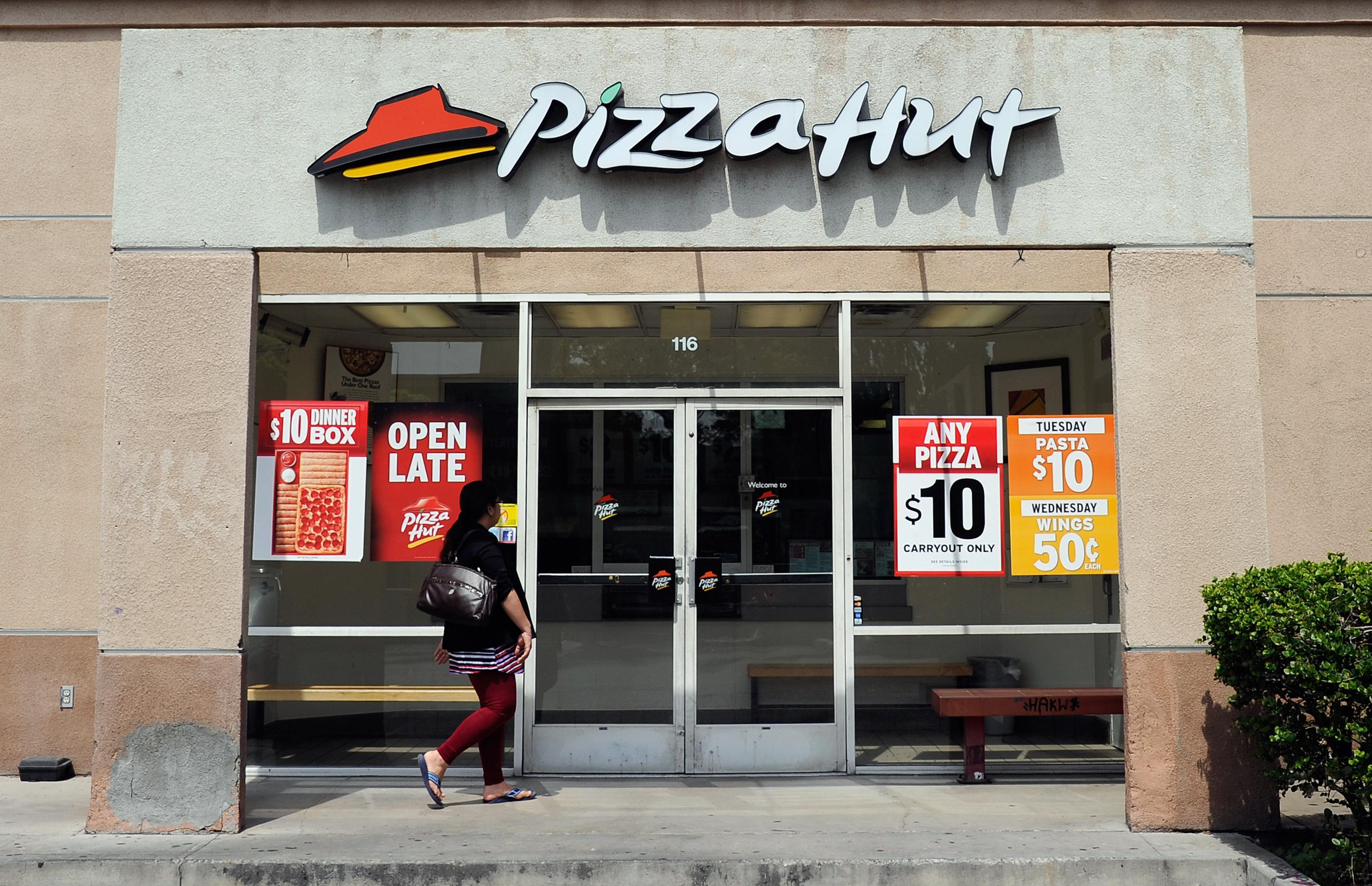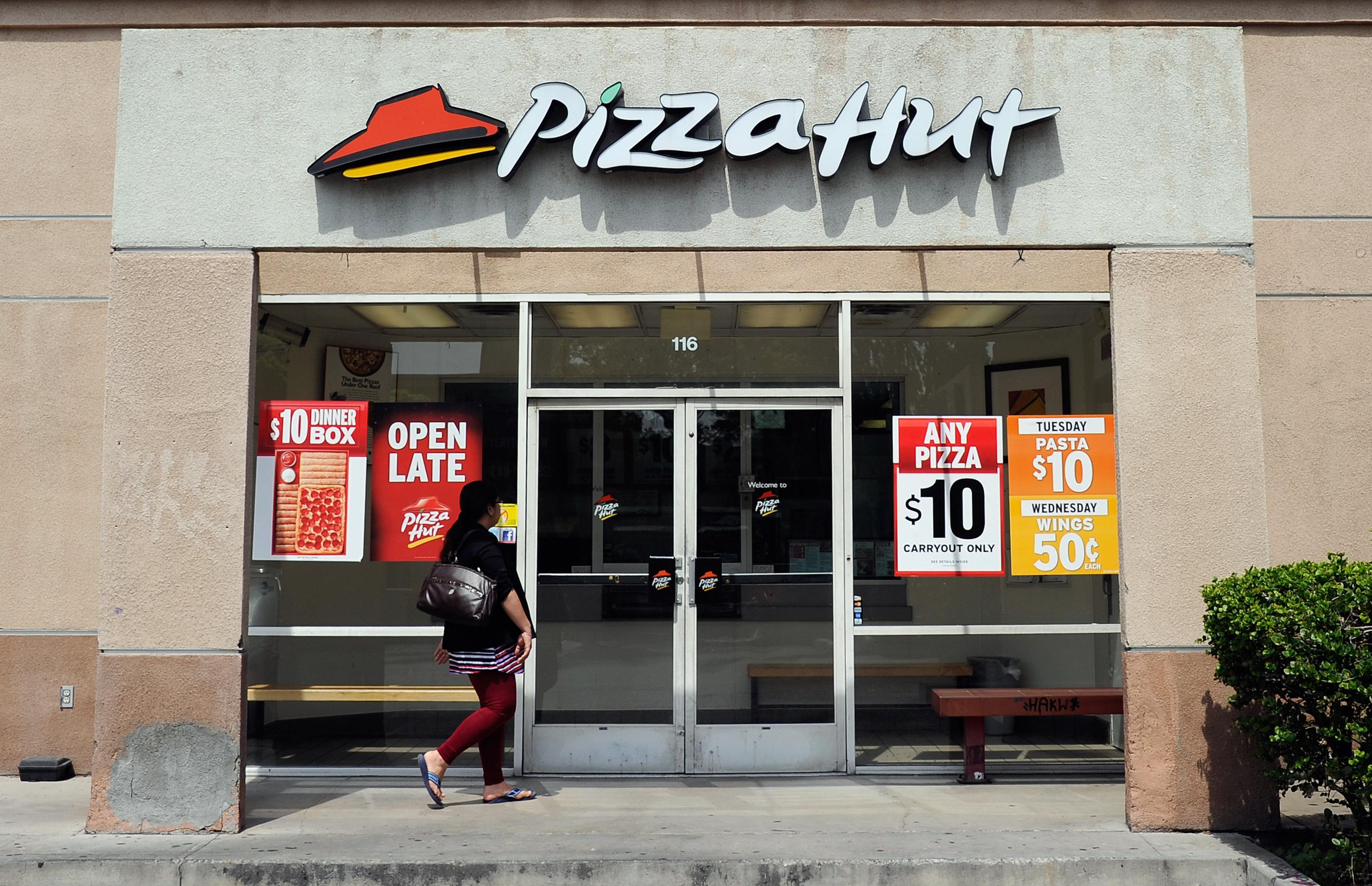 Some dislike Pizza Hut's customer service. | Kevork Djansezian/Getty Images
I must confess, I love Pizza Hut. The golden crispy underside of the crust is my kryptonite. However, I'm in the minority. Pizza Hut's status as the top dog among pizza chains is changing. After four years as the Pizza Chain Brand of the Year by The Harris Poll EquiTrend, they're no longer no. 1. Yelp reviews make it clear why. "I think the staff are aware they are serving horrible food and their moods / service reflects that," a Yelp reviewer says. Poor service and bad food makes Pizza Hut one of the worst pizza chains in America.
Sbarro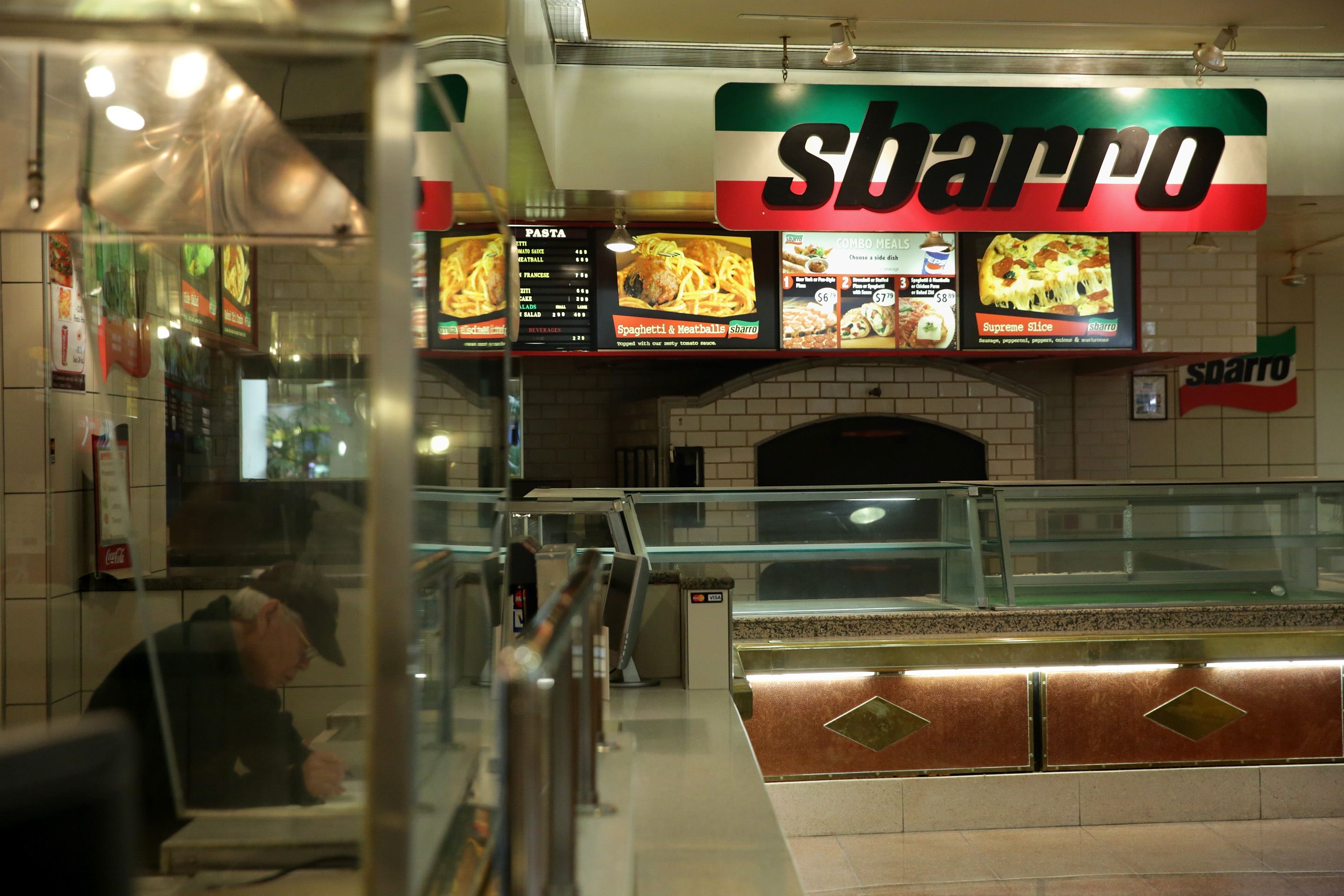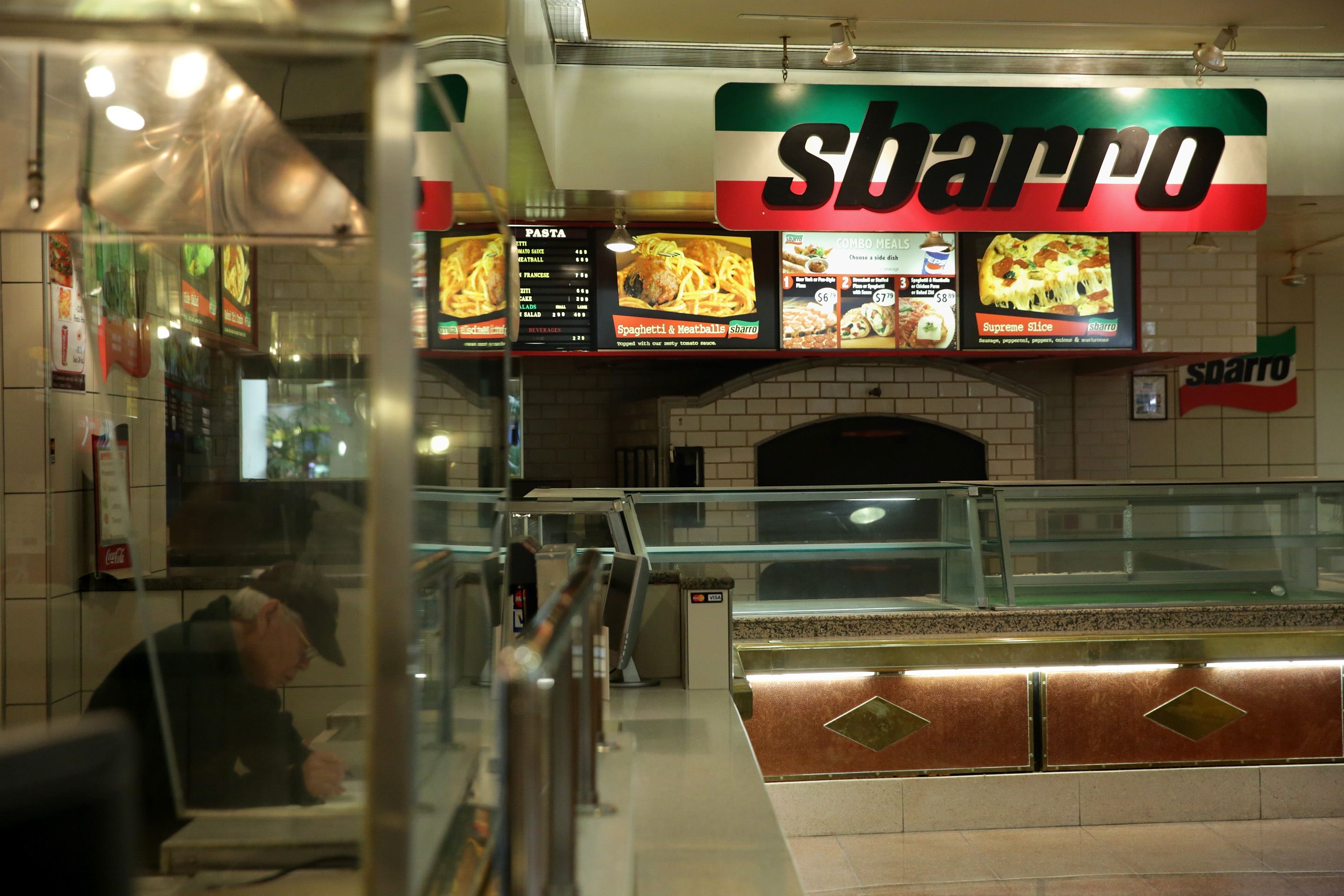 It's mall food. | Alex Wong/Getty Images
Sbarro is the quintessential mall pizza. Hungry shoppers may have fond memories of eating a giant slice of Sbarro's pizza but TripAdvisor reviews say otherwise. "[I] had absolutely the worst piece of pizza in my life. I don't know how they did that. The dough was raw tasting. The sauce was way too salty. There were sprinkles of cheese," one reviewer says. "Technically, Sbarro is not tasty," Carey Polis of Bon Apéptit writes.
Cici's Pizza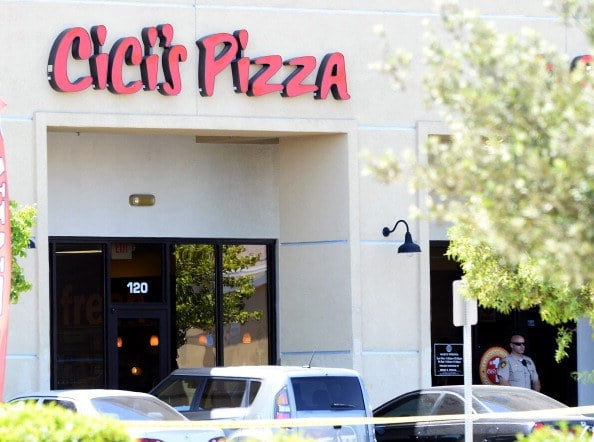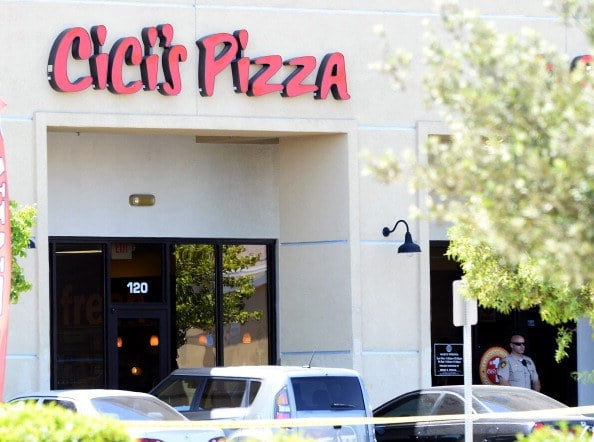 Customers did not have good experiences at the buffet. | Ethan Miller/Getty Images
People are saying "Cici you later" to Cici's Pizza. The buffet serves pizza with "not much cheese, [and] very little toppings," a Google reviewer said. "The food was cold and old," another person wrote. And, finally, one Cici's customer knows the employees don't eat the pizza at Cici's. "The staff there was sitting eating Taco Bell so that alone should tell you how the food is," the review says. Pizza light on cheese and sauce is no winning slice. An old, cold slice of pizza with hardly any toppings is even worse.
Jet's Pizza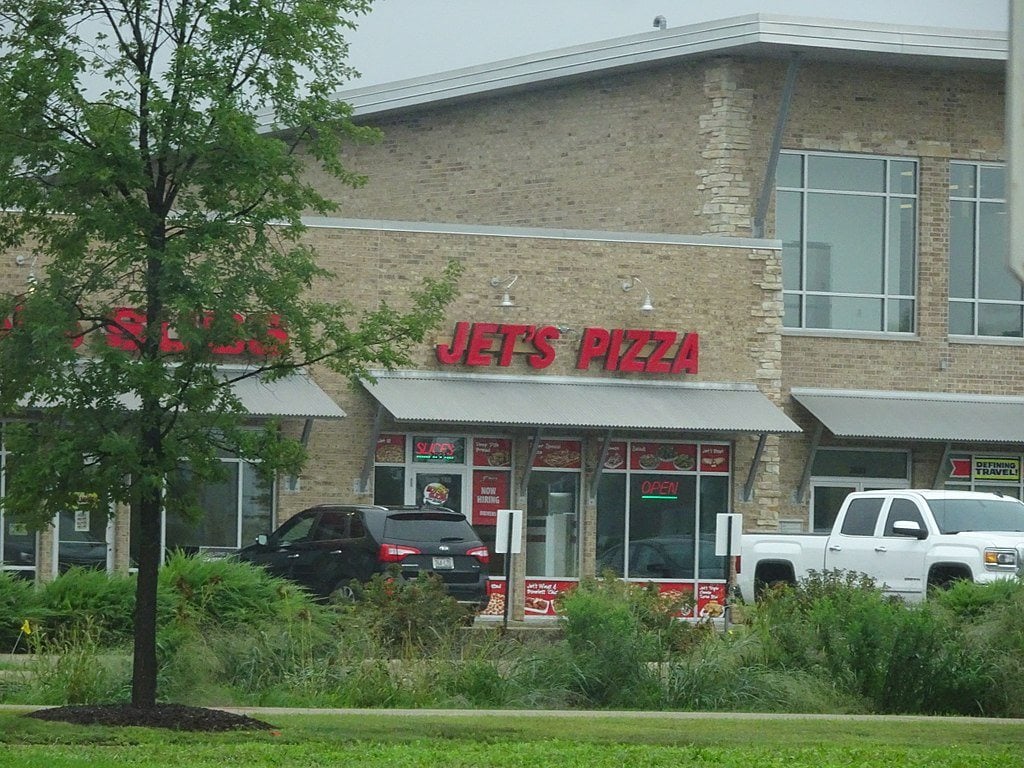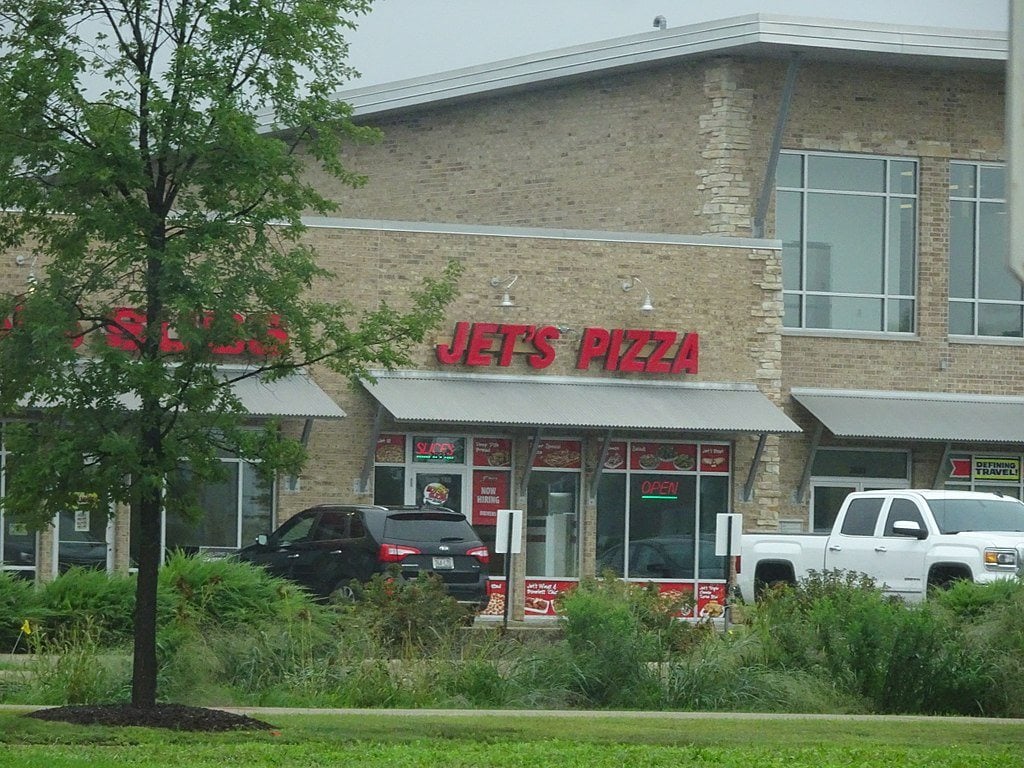 It's expensive and greasy. | Corey Coyle/Wikimedia Common
Known for their square pizza, Jet's Pizza is home to thick slices of pizza. For those who adore thin crust pizza, Jet's is the last place to grab a slice. Jet's Pizza is known to be costly and greasy. Don't be surprised if feeding your family costs upwards of $50. The chain's saving grace is their ranch. The creamy, tangy concoction is a must-have condiment.
Domino's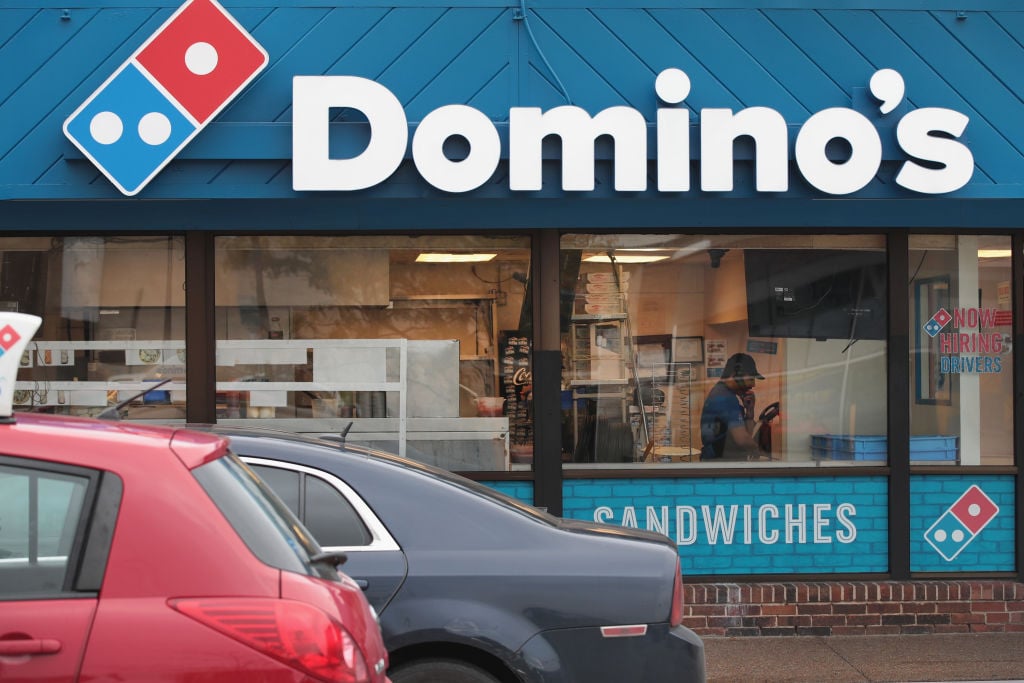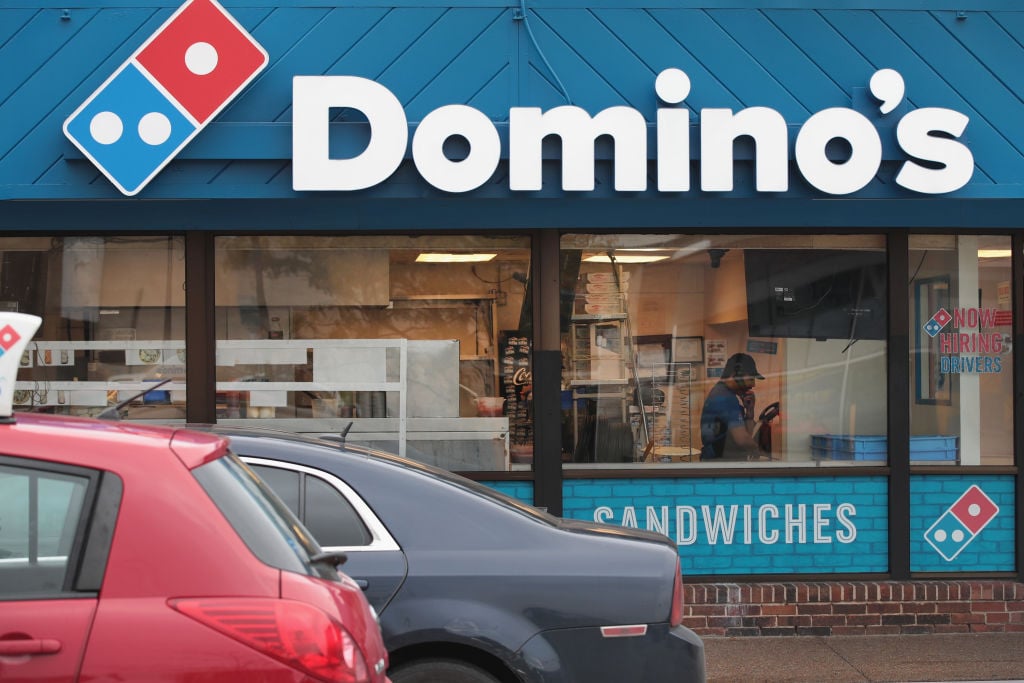 The company had to tweak its recipe after consumers declared the crust was like "cardboard." | Scott Olson/Getty Images
After conducting consumer tests, Domino's found that their pizza "crust tastes like cardboard," Patrick Doyle, the president of Domino's U.S. operations said in a video, according to Bloomberg. Other comments include "the sauce tastes like ketchup" and "this is an imitation of pizza." Domino's has tweaked their recipe since receiving these comments but the pizza is still greasy and not very memorable.
Next: These are the best pizza places in America.
New Haven, Connecticut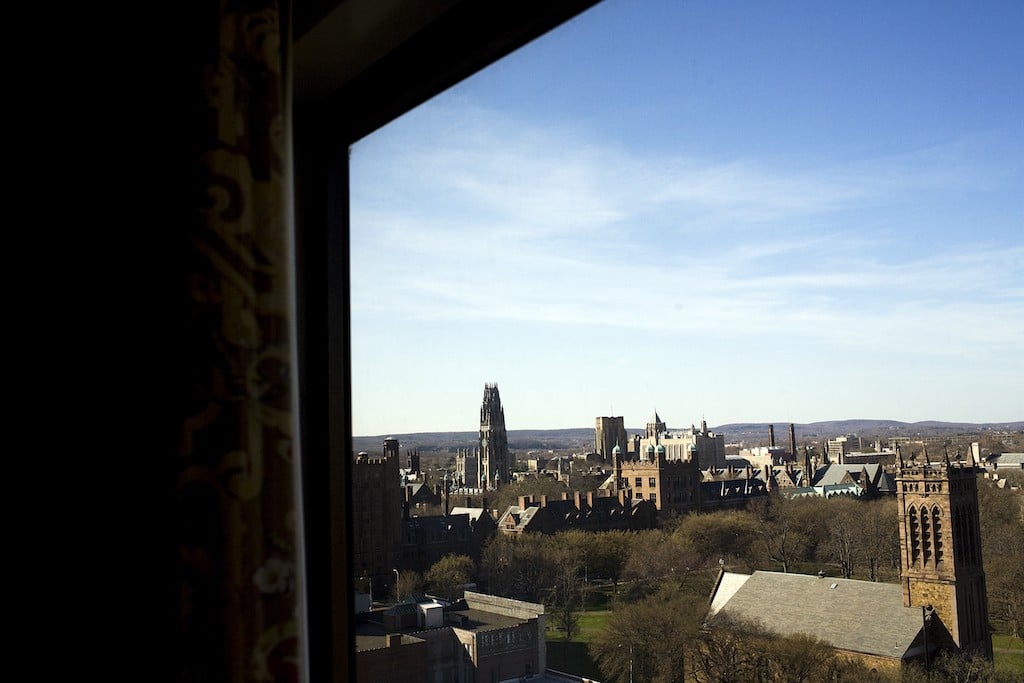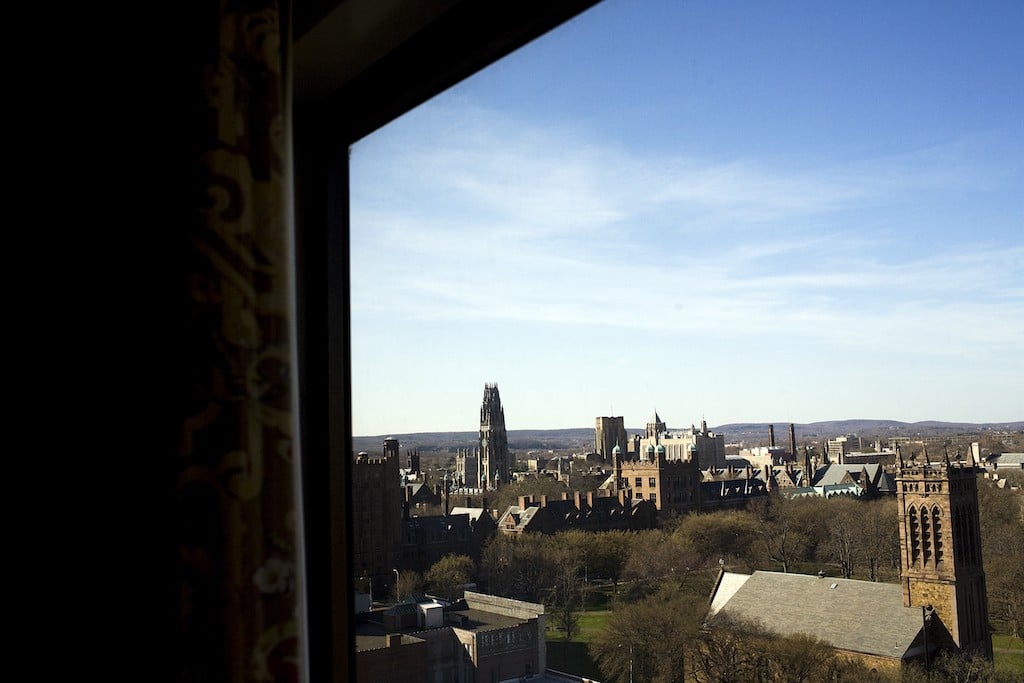 Home to Yale University, New Haven also has some major league pizza. | Christopher Capozziello/Getty Images
Hot spots: Pepe's, Sally's Apizza, and Modern Apizza
It's "apizza," not pizza in New Haven. Rooted deeply in its pure Italian ancestry, the New Haven-style is the direct offspring of the Neapolitan-style pie, and if you haven't tasted it first hand, you're missing out. The oval-shaped, thin-crusted delicacies are charred to perfection. And for connoisseurs looking to get their fill, that can all be done at Wooster Square. As for the legendary stops that must be made — Sally's Apizza, Modern Apizza, and Frank Pepe Pizzeria Napoletana (Pepe's). All three shops have been firing pies since the '20s and '30s.
Chicago, Illinois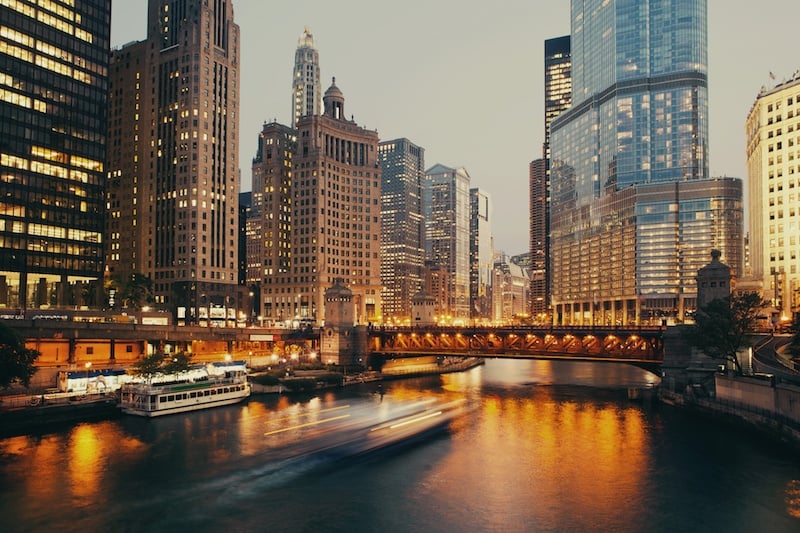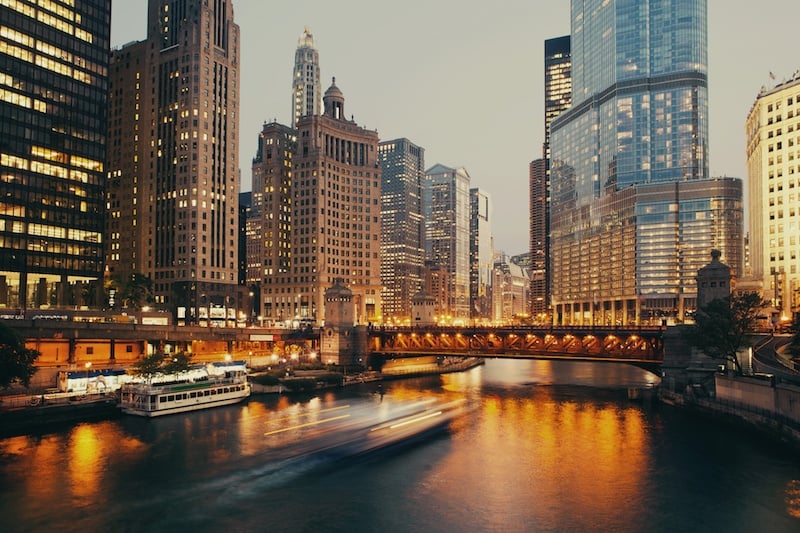 Chicago's pizza is world famous.| Ibsky/iStock/Getty Images
Hot spots: Pizzeria Uno, Pequad's, and Giordano's
For the sake of tradition, the top choices of pizza in Chicago are of the deep dish variety. While the origin of the deep dish hasn't quite been nailed down, there's no argument when it comes to its deliciousness. Pequad's signature pie is encircled with caramelized cheese and an all-time favorite. Uno's has been pumping out pies since 1943 and is now a worldwide company, meaning it shouldn't be hard to find one in your city. Last but certainly not least, Giordano's has locations sprinkled all over the Windy City. You can't really go wrong with any of their famous stuffed deep dishes.
Brooklyn, New York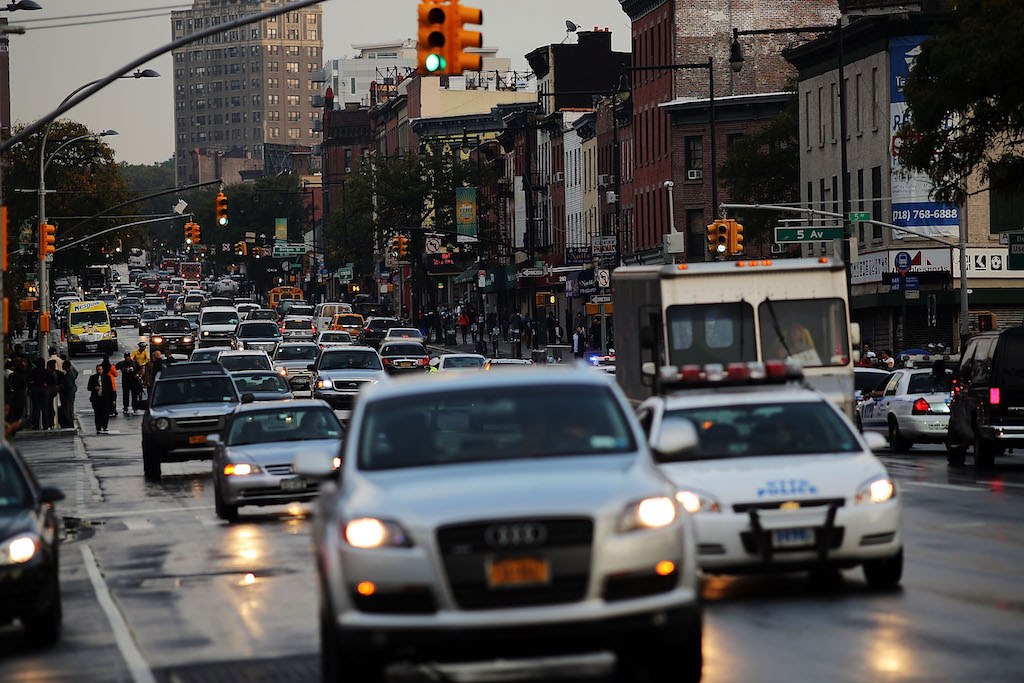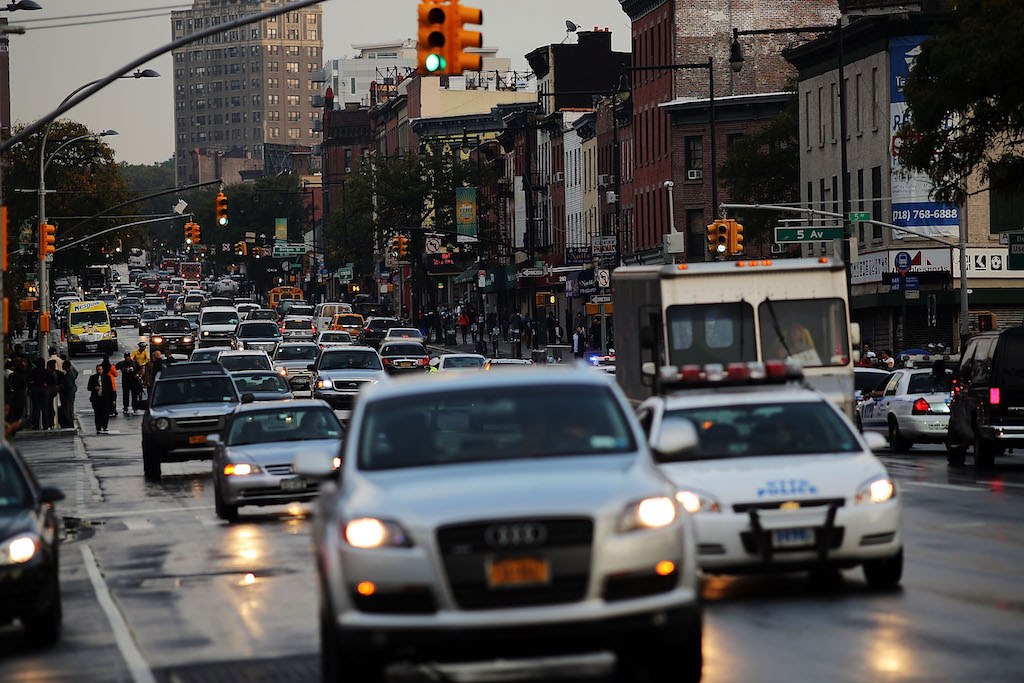 Brooklyn has some of New York's best pizza. | Spencer Platt/Getty Images
Hot spots: Monte's, Best Pizza, and Di Fara
New York City is known for its pizza, whether by the foldable slice or the whole pie. But, Brooklyn deserves some love too. Admittedly it's a bold move to declare one pizza joint reigning supreme over another one anywhere in the country, but it's particularly risky to do so in Brooklyn. Nevertheless, Monte's is one of the oldest Italian restaurants in Brooklyn. Give the Margherita, Salsiccia, or the Reale a try. Williamburg's Best Pizza is using a 100-year old wood-fired oven to pump out their pies, and you can't go wrong with any of them. As for Di Fara, the pizzeria has been whipping up pies for over 50 years. The imported ingredients create a perfect storm for a crispy, flavorful pizza experience.
Portland, Oregon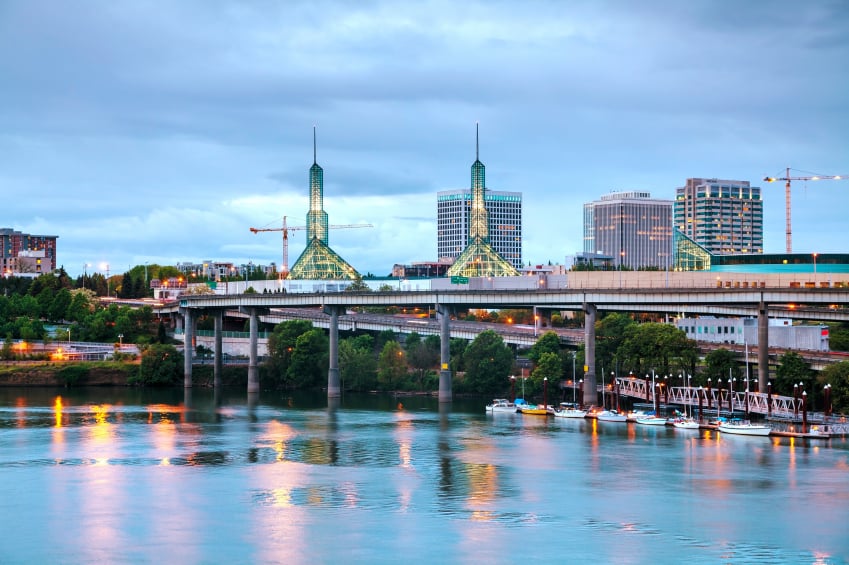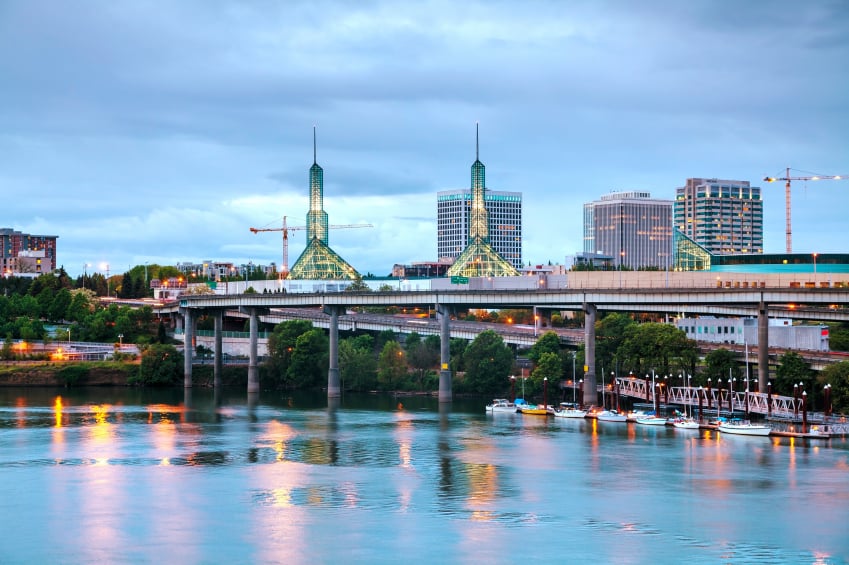 Portland has surprisingly good pizza. | iStock/Getty Images
Hot spots: Lovely's Fifty Fifty, Apizza Scholls, and Scottie's Pizza Parlor
Of course, the hipster capital of the world has a foothold on serving up delicious pies. Lovely's Fifty Fifty on Mississippi Avenue has made a mark of its own with what they call Northwest style pizzas. Lovely's uses toppings on its pizza that would make New Yorkers scoff. Portlanders, on the other hand, love it. Apizza Scholls, on the other hand, is the place in Portland to find New Haven-style pizza. You'll likely have to wait in a line, but trust us, it's worth it. Scottie's is run by Brooklyn-native Scottie Rivera and wife Amy Coplen. The couple knows how to make delicious pies. And if you hit up Scottie's during happy hour, you'll snag a $2 slice.
San Francisco, California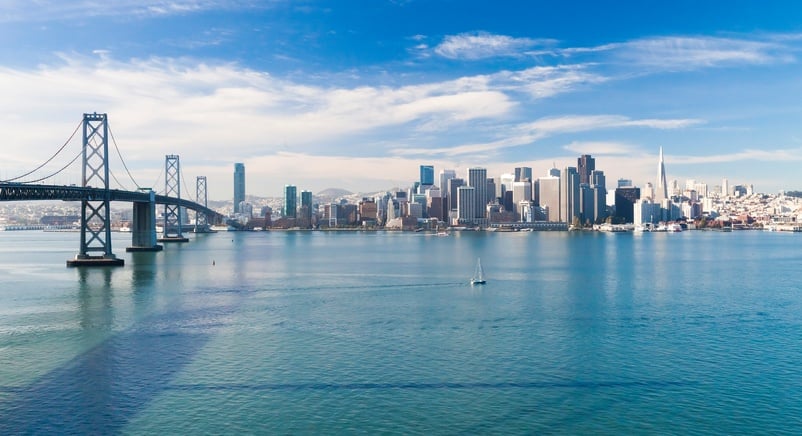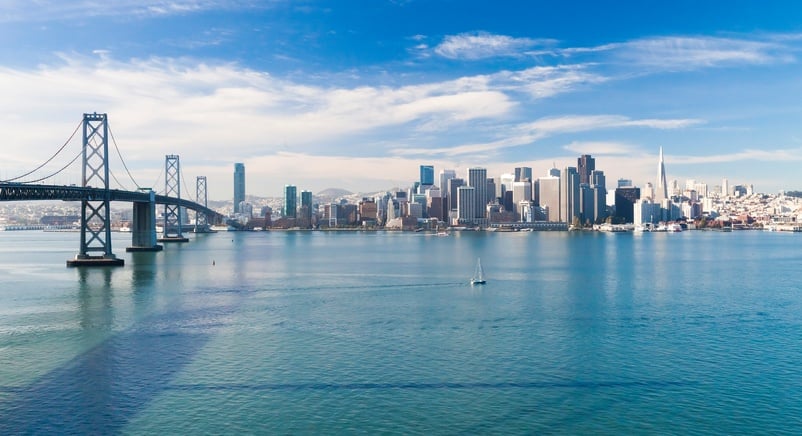 San Francisco's finest pies give east coast pizzerias a run for their money. | kropic/iStock/Getty Images
Hot spots: Arinell Pizza, Capo's, and Za Pizza
San Francisco gives New Yorkers a run for their money on the pizza front, specializing in all avenues of the pie game. Arinell's serves up slices for the lunch and late-night crowds. The straight-forward, foldable slices will put a smile on your face every time. If you're searching for a deep dish, Capo's is the place to go. Chef Tony Gemignani's Crown Point deep dish has won numerous awards. Plus, if the deep dish isn't your bag, Capo's also serves thin crust. The small neighborhood pizza shop, Za Pizza, specializes in thin crust and has been pumping them out for over two decades. Opt for one of its seven specialty pizzas or build your own.
Phoenix, Arizona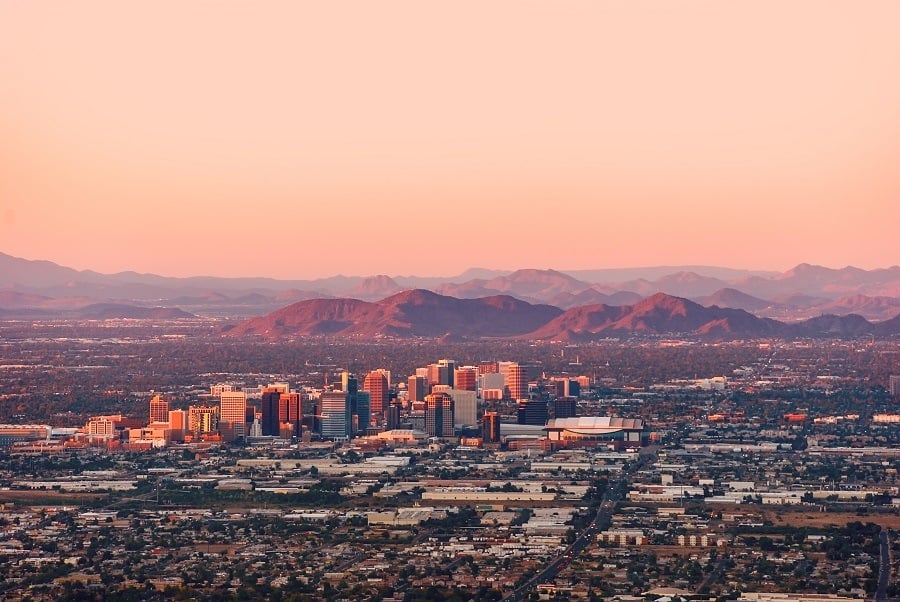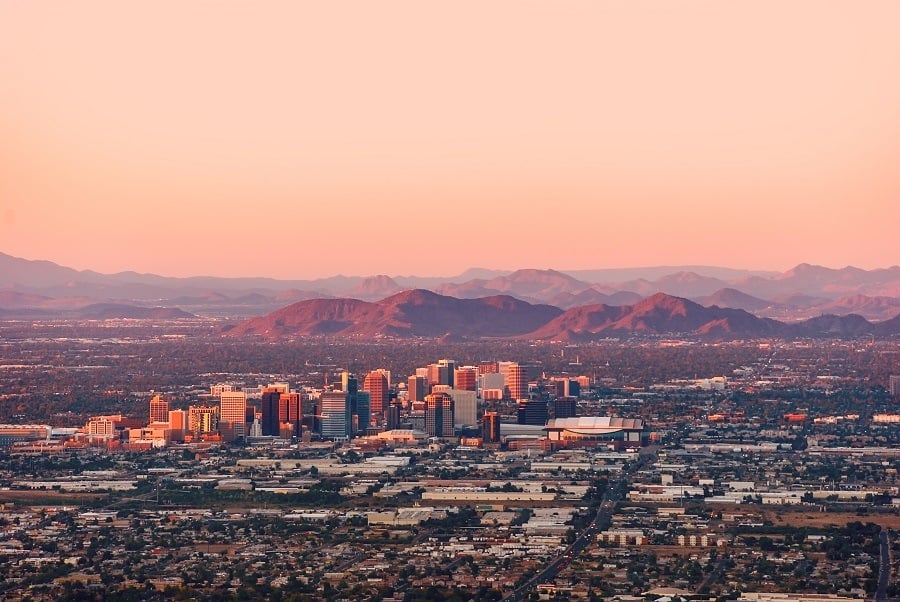 Looking for good pizza in the southwest? Go to Phoenix, Arizona. | Dreamframer/iStock/Getty Images
Hot spots: Pizzeria Bianco, Vito's, and Federal Pizza
The idea of Phoenix, Arizona as a pizza mecca doesn't sit well with most pizza lovers. But guess what? The city holds its own. For starters, Pizzeria Bianco's Chris Bianco is the creme de la creme of pizza proprietors. People line up for hours just to snag a table at the 30-year-old restaurant. The New York Times even claimed it to be "perhaps the best pizza in America." Vito's first location opened back in 1986. You can build your own or try a chef'specialty. Federal Pizza is making dreams come true with its drive-thru pizza joint. Not only are the pies amazing, but customers can even snag a perfectly paired brew to take with the pie.
Additional reporting by Trisha Phillips.
Check out The Cheat Sheet on Facebook!
Read more: These Restaurants Serve the Worst Burgers in America
Source: Read Full Article