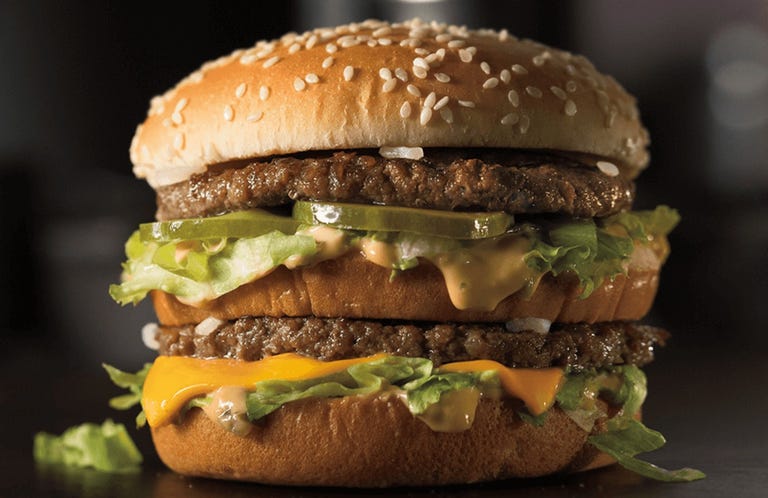 One of McDonald's most iconic burgers — the Big Mac — is turning 50, and in honor of the it's milestone birthday, McDonald's is giving customers a chance to get one for free. The only catch? You need a MacCoin to redeem one.
According to a tweet the company posted Sunday, McDonald's developed its own "global currency" to allow people to purchase one free Big Mac for the burger's birthday. The MacCoins will feature five collectible designs, one for each decade the Big Mac has been around.
We're celebrating 50 years of Big Mac by creating a global currency—MacCoin—each one worth a free Big Mac around the ?, with 5 collectible designs for 5 legendary decades. Starting August 2, collect your own MacCoins when you buy a Big Mac while supplies last. #BigMac50 pic.twitter.com/xn8Z9GNLSp
USA Today reports that the '70s coin will showcase flower power, the '80s coin will allude to pop art, the '90s coin will be bold with abstract shapes, the early '00s coin will focus on early technology, and the '10s coin will focus on the evolution of communication.
The Big Mac was first offered in U.S. stores nationwide in 1968. The burger is made, as the jingle goes, with two all-beef patties, special sauce, lettuce, cheese, pickles, and onions, on a sesame seed bun.
In August 2017, the recipe for McDonald's "secret" Big Mac sauce allegedly leaked online. An early franchise owner named Jim Delligatti, who created the Big Mac itself, also came up with the ingredients for the sauce. They included the following:
A limited supply of MacCoins will be available for pickup at 14,000 participating locations across the U.S. on Thursday. They can be used to redeem one free Big Mac starting Friday through the end of 2018.
From: Delish
Source: Read Full Article