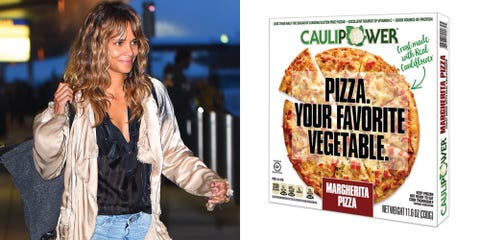 Thanks to her kick-butt workouts and commitment to the keto diet, Halle Berry just won't age. (Well, she is. She's just getting younger. Her trainer says the 51-year-old has the body of a woman half her age.) So any time she shares her workout tips or favorite foods, I'm all ears, because…obviously.
But Friday, her Instagram stories revealed a slightly unexpected favorite lunch: Caulipower Margherita Pizza.
"Low calorie pizza," Halle labeled the 'Gram.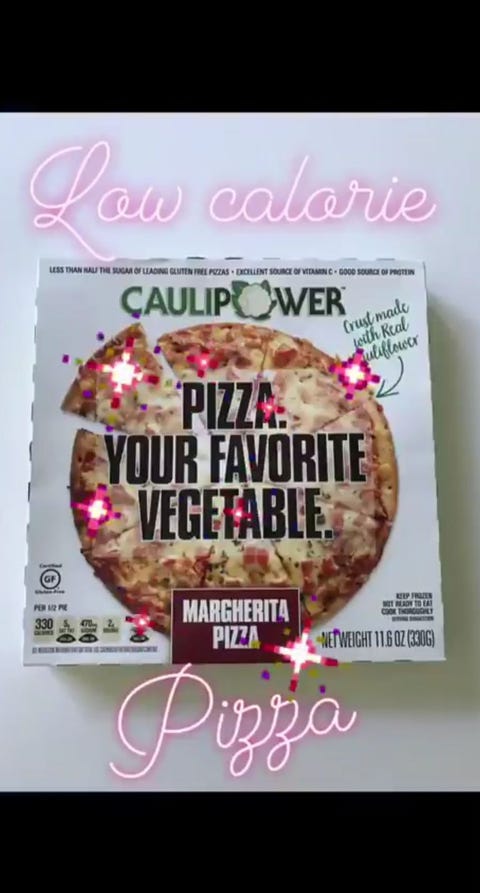 Courtesy of Halle Berry / @halleberry
In her accompanying Instagram post, Halle said that the pizza was one of her "favorite lunch meals to have on the go."
It's #FitnessFriday and today we talk about the importance of trying something new. Many of us get stuck in our fitness routines and do the same circuits over and over each week. We do the same exercises for legs, the same for upper body, the same for abs and so on and then we wonder why we don't see any real change in our body. Well, here is the answer. You have to shock your system and offer your body new exercises that it can respond to. Recently, I started doing #handstands with #donkeykicks and I noticed my upper body got stronger and more defined. So today in my stories, fitness icon @peterleethomas will show you 3 easy ways of doing old exercises to shock your body and get faster results. The #planche works shoulders, the #atomicclimber works lower abs and the #pistolsquat works the legs. I guarantee you you will see a change! I also shared two of my favorite lunch meals to have on the go. As always enjoy! ❤️??#FitnessFridayHB #Week30
A post shared by Halle Berry (@halleberry) on
So what's the deal with this stuff, anyways?
Caulipower is a popular brand of frozen cauliflower pizzas. The company's main mission is to "revolutionize" comfort foods "by making them better and better for you," according to their website. In addition to frozen cauliflower pizzas, they also sell frozen cauliflower pizza crusts and cauliflower baking mixes (in case you ever want to DIY).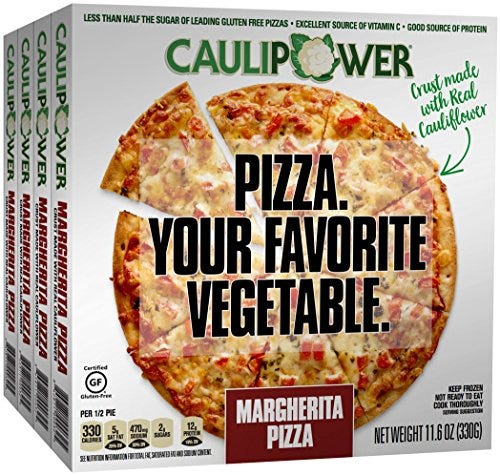 For anyone who's ever made cauliflower pizza from scratch, you know it's a huge pain in the ass. (Wait, I have to grind the cauliflower, press out all the liquid, mix it with a bunch of ingredients, and then roll it out? Who has time?) Which is why this pizza is a lifesaver if you're GF or low-carb and want to #treatyoself.
Caulipower's crust is made from ingredients like cauliflower, brown rice flour and cornstarch. And it's certified gluten-free, so you can feel good giving it to your friends who have Celiac's. You can buy it in a variety of flavors, like pepperoni, three cheese, and veggie.
Halle's eating the Margherita variety, which contains just 330 calories and an impressive 12 grams of protein for half the pie. Because the crust is cauliflower-based, the pizza is also a good source of fiber. (Note—you still get 37 grams of carbs per half-pizza serving, so it's not the lowest in carbs.)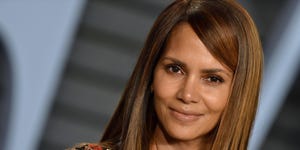 And Halle isn't the only one who loves the brand. One person on Amazon admitted they were hooked in their review: "Let's put it this way, after trying these I considered going on a pizza diet (eating only cauliflower pizza)."
Wrote another: "Delicious and crispy—MUCH better (and less mess/time!) than making it [ourselves]."
And one reviewer said they really like how they feel after (especially compared to a traditional 'za): "it's so awesome, it fills you up and leave you with a lite feeling, unlike when you have regular pizza and walk away all weighed down… you truly can not believe how close it is to regular crust pizza."
Okay, I'm sold. Where can I buy this stuff?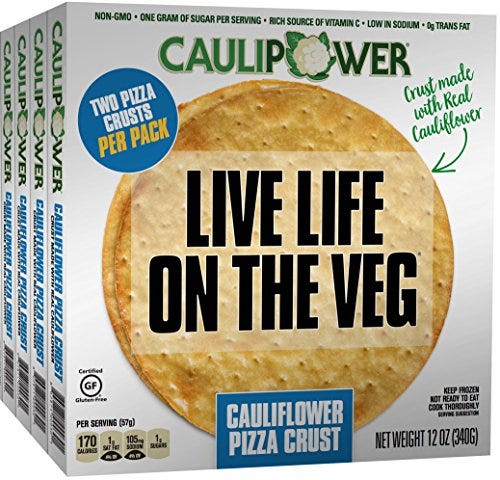 Look for Caulipower in the frozen foods section at grocery stores like Whole Foods. You can look up your nearest store in this handy tool. You can also stock up and buy in bulk from Amazon (including nabbing a pack of eight plain crusts).
Honestly, this whole experience has taught me that Halle Berry, ageless keto goddess, is just like the rest of us with her love of frozen pizza—even if it is cauliflower pizza. Now, can a girl get a slice?
Source: Read Full Article