Older adults in cities are at lower risk of serious psychological distress — and potentially of later cognitive impairment and dementia — when they live close to so-called green and blue spaces, which can include public parks, community gardens, cemeteries, and bodies of water.
The findings of the study, which was released ahead of its scheduled presentation at the annual meeting of the American Academy of Neurology, build on a growing understanding of the relationship between types and qualities of urban environments and dementia risk.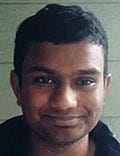 Adithya Vegaraju
Adithya Vegaraju, a student at Washington State University, Spokane, led the study, which looked at data from the Washington State Behavioral Risk Factor Surveillance System to assess prevalence of serious psychological distress among 42,980 Washington state residents aged 65 and over.
The data, collected between 2011 and 2019, used a self-reported questionnaire to determine serious psychological distress, which is defined as a level of mental distress considered debilitating enough to warrant treatment.
Vegaraju and his coauthor Solmaz Amiri, DDes, also of Washington State University, used ZIP codes, along with U.S. census data, to approximate the urban adults' proximity to green and blue spaces.
After controlling for potential confounders of age, sex, ethnicity, education, and marital status, the investigators found that people living within half a mile of green or blue spaces had a 17% lower risk of experiencing serious psychological distress, compared with people living farther from these spaces, the investigators said in a news release.
Implications for Cognitive Decline and Dementia?
Psychological distress in adults has been linked in population-based longitudinal studies to later cognitive decline and dementia. One study in older adults found the risk of dementia to be more than 50% higher among adults aged 50-70 with persistent depression. Blue and green spaces have also been investigated in relation to neurodegenerative disease among older adults; a 2022 study looking at data from some 62 million Medicare beneficiaries found those living in areas with more vegetation saw lower risk of hospitalizations for Alzheimer's disease and related dementias.
"Since we lack effective prevention methods or treatments for mild cognitive impairment and dementia, we need to get creative in how we look at these issues," Amiri commented in a press statement about her and Vegaraju's findings. "Our hope is that this study showing better mental health among people living close to parks and water will trigger other studies about how these benefits work and whether this proximity can help prevent or delay mild cognitive impairment and dementia."
The investigators acknowledged that their findings were limited by reliance on a self-reported measure of psychological distress.
A Bidirectional Connection With Depression and Dementia
In a comment, Anjum Hajat, PhD, an epidemiologist at University of Washington School of Public Health in Seattle who has also studied the relationship between green space and dementia risk in older adults, noted some further apparent limitations of the new study, for which only an abstract was available at publication.
"It has been shown that people with depression are at higher risk for dementia, but the opposite is also true," Hajat commented. "Those with dementia are more likely to develop depression. This bidirectionality makes this study abstract difficult to interpret since the study is based on cross-sectional data: Individuals are not followed over time to see which develops first, dementia or depression."
Additionally, Hajat noted, the data used to determine proximity to green and blue spaces did not allow for the calculation of precise distances between subjects' homes and these spaces.
Vegaraju and Amiri's study had no outside support, and the investigators declared no conflicts of interest. Hajat declared no conflicts of interest.
This story originally appeared on MDedge.com, part of the Medscape Professional Network.
Source: Read Full Article