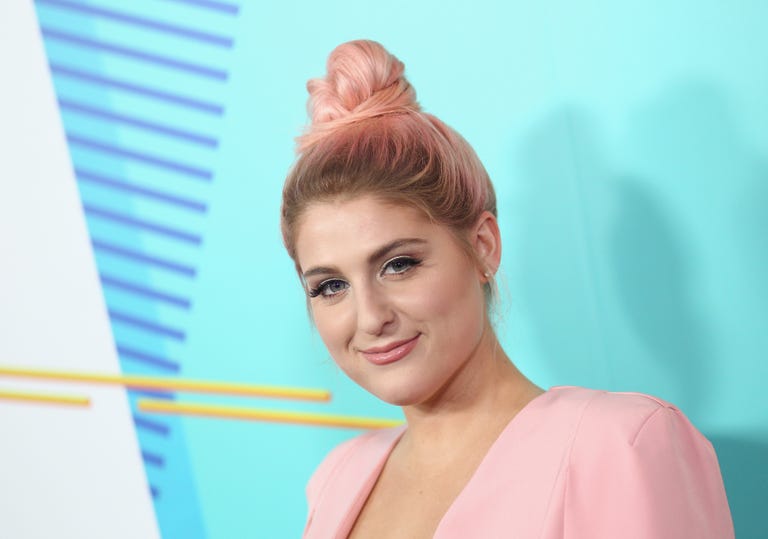 Meghan Trainor is, basically, the face of owning your shit and loving yourself—and now, she's opening up about her struggles with anxiety and depression.
While co-hosting the Today Show, the singer, 24, opened up to Hoda Kotb, about her mental health, which she said took a hit following the 2015 vocal cord surgery that threatened her career.
"It's the most confusing, frustrating thing ever because you're just trapped in it until you can figure it out," Megan said, talking about her anxiety.
In fact, another Today anchor helped Meghan "figure it out": Carson Daly. She said that after watching Carson talk about his generalized anxiety disorder, she realized she was feeling the exact same way—she just didn't know how to explain it.
"I went up to him and I was like, 'You don't know what you've done for me, but it was amazing,'" she said.
What is generalized anxiety disorder?
Generalized anxiety disorder is, essentially, when worry takes over your life.
Of course everyone worries, but those with GAD "feel extremely worried or feel nervous…even when there is little or no reason to worry about them," according to the National Institute of Mental Health. People with the disorder also have a hard time overcoming anxiety and focusing on daily tasks.
This isn't the first time Meghan has been candid about her struggles. Earlier this year she described falling "into a crazy, deep hole of depression and anxiety," on The Dan Wootton Interview, reported The Sun.
She says the anxiety was so bad, she suffered panic attacks—one that even sent her to the emergency room.
"I thought I was allergic to what I ate," said Meghan. "My throat was closing and I was having trouble breathing. They told me, 'This is a full-blown panic attack.'"
Despite those struggles, Meghan still fought to keep up her brave, confident persona—but inside, she felt differently. "I was the opposite. I was crumbling in my bed," she said, adding that, "You feel like there's something wrong with you and you're embarrassed to talk about it. No one can help you. It's your brain. It's chemicals."
It wasn't until Meghan "slowed down" and began seeking professional help that she started to feel a change: "It took months—I'm still in therapy. I would see my therapist once a week," she said.
Source: Read Full Article