MANCHESTER, England — Data from the COVAD-2 e-survey suggest that people with a rheumatic disease are twice as likely as are those without to experience long-term effects after contracting COVID-19.
The prevalence of post–COVID-19 condition (PCC), the term the World Health Organization (WHO) advocates for describing the widely popularized term long COVID, was 10.8% among people with autoimmune rheumatic diseases (AIRDs) vs 5.3% among those with no autoimmune condition (designated as "healthy controls"). The odds ratio (OR) was 2.1, with a 95% CI of 1.4-3.2 and a P-value of .002.
The prevalence in people with nonrheumatic autoimmune diseases was also higher than it was in the control participants but still lower, at 7.3%, than in those with AIRDs.
"Our findings highlight the importance of close monitoring for PCC," Arvind Nune, MBBCh, MSc, said in a virtual poster presentation at the British Society for Rheumatology 2023 Annual Meeting.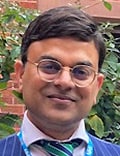 Dr Arvind Nune
They also show the need for "appropriate referral for optimized multidisciplinary care for patients with autoimmune rheumatic diseases during the recovery period following COVID-19," added Nune, who works for Southport and Ormskirk Hospital NHS Trust in England.
In an interview, he noted that it was patients who had a severe COVID-19 course or had other coexisting conditions that appeared to experience more long-term effects than did their less-affected counterparts.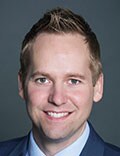 Dr Jeffrey Sparks
Commenting on the study, Jeffrey Sparks, MD, MMSc, told Medscape Medical News: "This is one of the first studies to find that the prevalence of long COVID is higher among people with systemic rheumatic diseases than those without."
Sparks, who is based at Brigham and Women's Hospital and Harvard Medical School in Boston, Massachusetts, added: "Since the symptoms of long COVID and rheumatic diseases can overlap substantially, more work will need to be done to determine whether COVID may have induced flares, new symptoms, or whether the finding is due to the presence of the chronic rheumatic disease."
The COVAD Study
Using an electronic survey platform, the COVAD study has been set up to look at the long-term efficacy and safety of COVID-19 vaccinations in patients with AIRDs. It's now a large international effort involving more than 150 collaborating clinics in 106 countries.
A huge amount of data has been collected. "We collected demographics, details of autoimmune disease, including treatment, comorbidity, COVID infection, vaccination history and outcomes, date on flares, and validated patient-reported outcomes, including pain, fatigue, physical function, and quality of life," Nune said in his presentation.
A total of 12,358 people who were invited to participate responded to the e-survey. Of them, 2640 were confirmed to have COVID-19. Because the analysis aimed to look at PCC, anyone who had completed the survey less than 3 months after infection were excluded. This left 1677 eligible respondents, of whom, an overall 8.7% (n = 136) were identified as having PCC.
"The [WHO] definition for PCC was employed, which is persistent signs or symptoms beyond 3 months of COVID-19 infection lasting at least 2 months," Nune told Medscape Medical News.
"Symptoms could be anything from fatigue to breathlessness to arthralgias," he added. However, the focus of the present analysis was to look at how many people were experiencing the condition rather than specific symptoms.
A higher risk for PCC was seen in women than in men (OR, 2.9; 95% CI, 1.1-7.7; P = .037) in the entire cohort.
In addition, those with comorbidities were found to have a greater chance of long-term sequalae from COVID-19 than were those without comorbid disease (OR, 2.8; 95% CI, 1.4-5.7; P = .005).
Patients who experienced more severe acute COVID-19, such as those who needed intensive care treatment, oxygen therapy, or advanced treatment for COVID-19 with monoclonal antibodies, were significantly more likely to later have PCC than were those who did not (OR, 3.8; 95% CI, 1.1-13.6; P = .039).
Having PCC was also associated with poorer patient-reported outcomes for physical function compared with not having PCC. "However, no association with disease flares of underlying rheumatic diseases or immunosuppressive drugs used were noted," Nune said.
These new findings from the COVAD study should be published soon. Nune suggested that the findings might be used to help identify patients early so that they can be referred to the appropriate services in good time.
The COVAD study was independently supported. Nune reports no relevant financial relationships. Sparks is supported by the National Institute of Arthritis and Musculoskeletal and Skin Diseases, the R. Bruce and Joan M. Mickey Research Scholar Fund, and the Llura Gund Award for Rheumatoid Arthritis Research and Care. Sparks has received research support from Bristol-Myers Squibb and performed consultancy for AbbVie, Amgen, Boehringer Ingelheim, Bristol-Myers Squibb, Gilead, Inova Diagnostics, Janssen, Optum, and Pfizer.
British Society for Rheumatology 2023 Annual Meeting. Presented April 24, 2023. Abstract P065
Sara Freeman is a medical journalist based in London, UK.
Source: Read Full Article