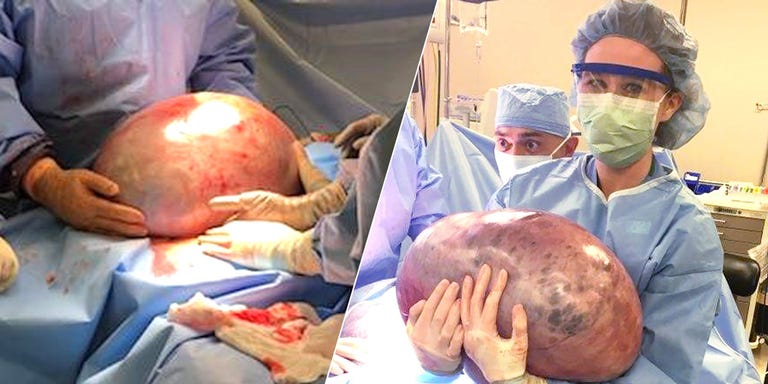 An Alabama woman thought she was simply gaining weight — until she discovered that a massive 50-pound ovarian cyst was actually growing inside of her.
Kayla Rahn, 30, had unexplained stomach issues, pain, and weight gain for months — it wasn't until she went to the ER at Jackson Hospital in Montgomery, Alabama, that doctors found her ovarian cyst, the hospital wrote in a press release.
Kayla was diagnosed with a benign (i.e., not cancerous) mucinous cystadenoma, a type of epithelial tumor that can get pretty big. Most epithelial tumors, which develop from the cells that cover the outer surface of the ovary, are benign, according to the National Ovarian Cancer Coalition (NOCC).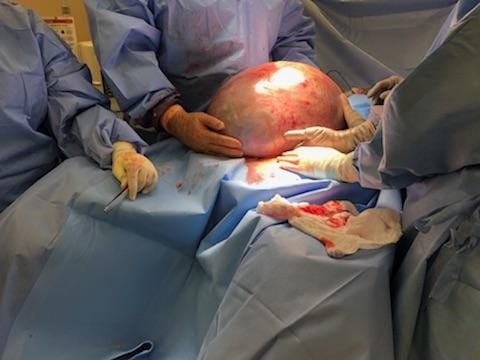 The ones that are cancerous, however, are the most common and most dangerous of all types, accounting for 85 to 90 percent of all ovarian cancers, per the NOCC.
Before she sought help, Kayla had been trying to lose weight for a year — but ended up gaining it. She was even asked at one point if she was pregnant with twins.
After her cyst was found, Kayla says she was relieved. "I do remember telling my mom and [bursting] out crying they were going to fix it. I knew something was wrong," Kayla told NBC12.
Kayla's medical team performed surgery to remove the cyst on May 26, the day after it was found. Gregory Jones, M.D., an ob-gyn at Jackson Hospital and one of Kayla's doctors, says he's seen these types of tumors before, but he was surprised by how big Kayla's had gotten.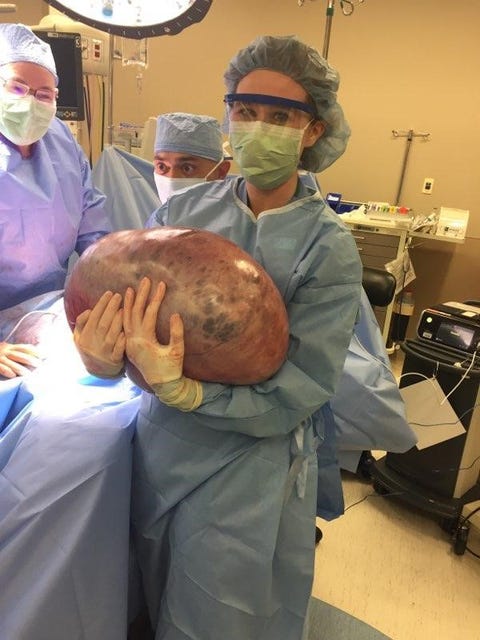 "This is one of the largest I have ever seen or certainly removed," he told NBC12. "We are very excited things went well for her."
Now, Kayla says she's excited to get back to work and living without the 50-pound tumor. "As soon as I got home and was able to move a little, I tried on every shirt I had on and it was awesome," she said. "This dress I have on, I actually have not been able to wear in a year."
Kayla hopes that her story will encourage other women to seek help when something in their bodies just doesn't seem right.
From: Women's Health US
Source: Read Full Article