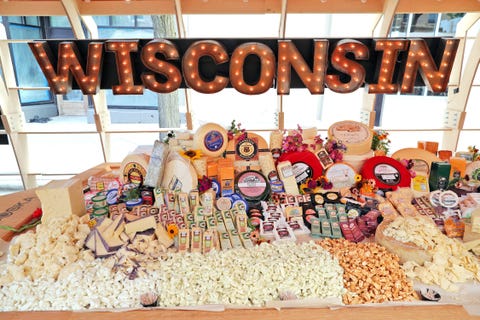 A group called Dairy Farmers of Wisconsin are out there just making cheese lovers' dreams come true. They just created the the largest cheese board in the world, officially setting a new Guinness World Records title.
According to a press release, the board spanned 35 feet long and seven feet wide, and held 4,437 POUNDS of cheese. I hate to be cheesy here, but can you brie-lieve how much cheese that is?!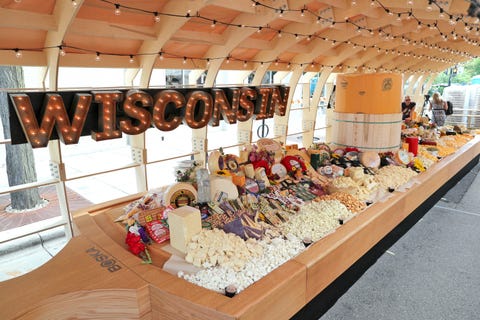 To put things in perspective, that cheese board weighs MORE THAN the average car in the U.S., as of 2010 (4,009 pounds, per Slate). It shouldn't come as a surprise that the record comes from Wisconsin, the cheese state itself.
The cheese excitement took over an entire street of downtown Madison, and the board topped the previous record holder by more than 1,000 pounds. According to the press release, there were "145 different varieties, types and styles of Wisconsin's unique specialty and artisan cheese — including national and international award-winners."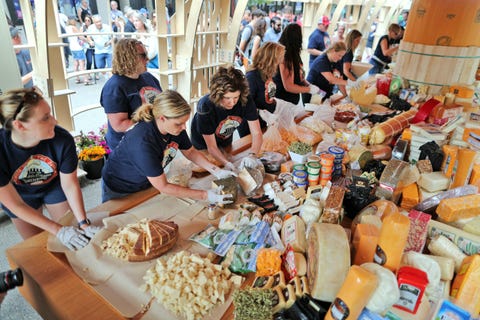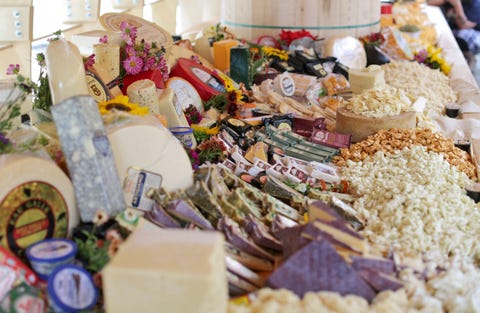 A 2,000 pound Henning's cheddar wheel was the centerpiece.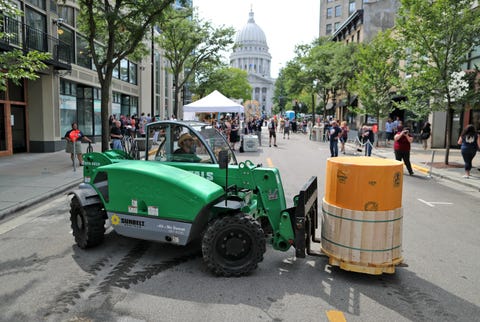 The press release notes that the cheese board was custom-made to fit into a digitally fabricated barn, using a process that's a cross between woodcutting and 3-D printing. Evidently, it takes a village for such an endeavor — more than 60 people helped prep, transport, house, style, and weigh the cheeses.
After the judging ceremony by a Guinness World Records adjudicator, the massive crowd of more than 45,000 got to check out the board and the lucky 2,000 first guests in line got a "curated cheese plate to-go."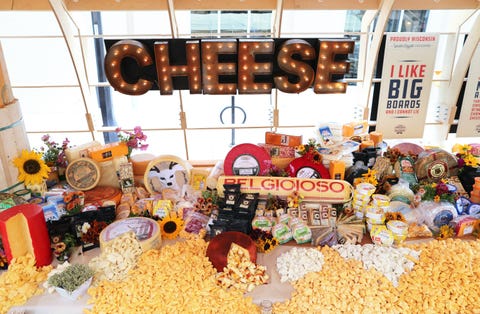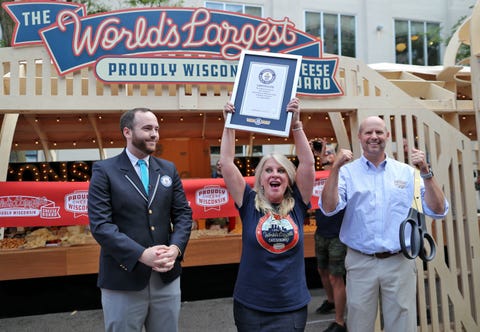 In addition, onlookers entered a raffle to win full wheels of cheese, and 100% of the proceeds went to The Great American Milk Drive. All of the remaining cheese was donated to the Second Harvest Foodbank of Southern Wisconsin. Both organizations benefit families in need. Props to Dairy Farmers of Wisconsin for sharing the cheese!
All I can think about is how a cheese board that big (and wine to boot) would make for the most legendary Bachelorette finale spread EVER. Maybe next year …
From: Delish
Source: Read Full Article