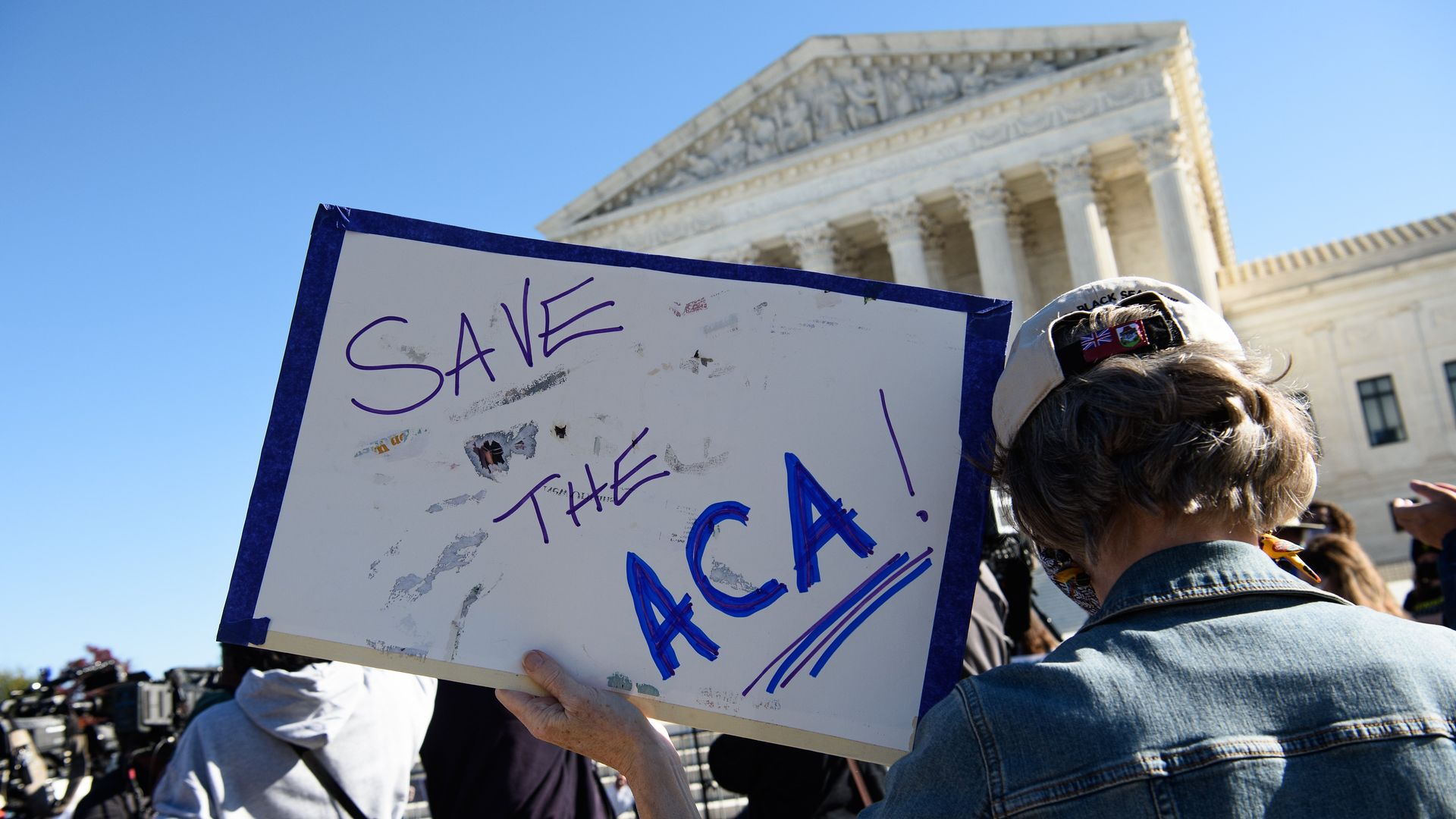 A demonstrator holds a sign in front of the US Supreme Court in Washington, DC, on November 10, 2020, as the high court opened arguments in a long-brewing case over the constitutionality of the 2010 Affordable Care Act. Photo: Photo: Nicholas Kamm/AFP via Getty Images
A federal judge in Texas ruled Thursday that employers can't be required to cover specified preventive health care services under the Affordable Care Act.
Why it matters: The ruling has major implications for the more than 150 million Americans on employer-sponsored health plans and could put millions on the hook financially for cancer screenings, immunizations, contraception and other high-value services.
The Biden administration is expected to appeal the decision.
Context: The ruling stemmed from a case brought by six individuals and two Christian-owned businesses who argued that they should not be mandated to offer coverage of HIV PrEP because they did not want to encourage "homosexual behavior."
Under the ACA, most health insurance plans must cover certain recommended preventive services, including HIV testing for people aged 15-65 and HIV PrEP for adults who are at high risk of getting HIV.
Last September, U.S. District Judge Reed O'Connor ruled that ACA's PrEP mandate violated the defendants' rights under the Religious Freedom Restoration Act, a law that "ensures that interests in religious freedom are protected."
But O'Connor didn't issue a scope of relief for the ruling until today.
O'Connor is the same Texas judge who sided with the plaintiffs in an earlier major ACA court case, ruling that the law is unconstitutional and should be struck down.
What we're watching: With the ACA's preventive services requirement being voluntary, insurers can either drop coverage of these services or start charging enrollees for them.
The case could ultimately wind up at the Supreme Court, following the same trajectory as the last ACA lawsuit that O'Connor ruled on.
Editor's note: This story is developing and will be updated.
Source: Read Full Article