Transnasal evaporative cooling appears promising as a nonpharmacologic treatment to abort migraine attacks, according to the results of a small study.
Most patients reported relief of their symptoms after receiving 15 minutes of transnasal evaporative cooling, without any need for rescue medication.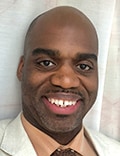 Dr Larry Charleston IV
The cooling may modulate the sphenopalatine ganglion, a large ganglion implicated in migraine, lead author Larry Charleston IV, MD, director of the Headache & Facial Pain Division, and professor of Neurology at Michigan State University College of Human Medicine, East Lansing, Michigan, told Medscape Medical News.
"The transnasal evaporative cooling device cools by blowing dry, ambient air across the nasal turbinates and may work by neuromodulation via the spenopalatine ganglion for migraine," Charleston said.
The findings were presented at the virtual American Headache Society (AHS) Annual Meeting 2023.
A 'Cool' Approach to Migraine Treatment
"Everyone who has migraine disease needs abortive treatment," Charleston said. "There is a need for safe and effective acute treatment for migraine. As we understand more about the pathophysiology of migraine, we learn that peripheral input plays a role in migraine disease.
"I was excited to learn of the device and to learn how we might take advantage of our knowledge of the sphenopalatine ganglia in the treatment of migraine, and was very enthusiastic to be involved in researching a nonpharmacological treatment to abort migraine attacks," he said. "I thought this approach to migraine treatment was really 'cool.'"
In this study, the evaporative cooling was delivered via the CoolStat Transnasal Thermal Regulating Device (CoolTech LLC).
Twenty-four patients who met diagnostic criteria for episodic migraine with or without aura were randomized to receive 15 minutes of cooling induced by the CoolStat Transnasal Thermal Regulating Device (CoolTech LLC), or to a sham treatment with a CoolStat sham device.
Participants receiving active treatment were further randomized to receive one of the following flow rates: 24 liters per minute (LPM; n = 6 patients), 18 LPM (n = 9 patients), and 6 LPM (n = 9 patients).
All patients were instructed to get to their headache clinic during a migraine attack to start treatment.
The researchers looked at pain levels and most bothersome symptoms at baseline, and then at 2 and 24 hours after treatment. The primary endpoint was pain relief at 2 hours. Other endpoints included tolerability, relief from most bothersome symptoms, and freedom from pain at 2 hours.
The results showed that 88% (8/9 patients) of the 6 LPM group reported pain relief at 2 hours. Of these, 44% (4/9) reported being pain free at 2 hours, all without need for rescue medication.
Similarly, pain relief at 2 hours occurred in 44% (4/9) of patients in the 18 LPM group, and in 50% (3/6) of the patients in the 24 LPM group.
No participants in the 18 LPM or the 24 LPM groups reported pain freedom at 2 hours.
Most bothersome symptoms were also reduced. Again, response was greater with 6 LPM treatment. At 2 hours, 77% (7/9) of patients in the 6 LPM group reported relief of their symptoms, followed by 66% (6/9) of the 18 LPM group and 50% (3/6) of the 24 LPM group.
However, nasal discomfort was a bothersome adverse effect, Charleston noted. The rate of nasal discomfort occurred in all groups but was lower in the 6 LPM group.
Moderate intranasal discomfort during treatment was reported by 11% of the 6 LPM group, compared with 33% (3/9) in the 18 LPM group and 83% (5/6) in the 24 LPM group.
However, the study was terminated due to insufficient subject accrual rate.
"Originally 87 participants were recruited and consented. It may have been challenging for some to come in to study clinic sites for the study treatment at the onset of their migraine attacks. The next iteration of the treatment device is a more portable model and study treatment may be used at home. This will likely be more convenient and enhance study participation," Charleston said.
The data in the current study will help inform dose ranging analyses in future studies, to optimize efficacy and increase tolerability, he added.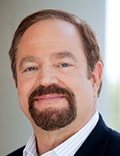 Dr Richard B. Lipton
The findings are promising and merit further assessment in a larger study with a sham control group, commented Richard B. Lipton, MD, Edwin S. Lowe Professor and vice chair of Neurology, and director of the Montefiore Headache Center, Albert Einstein College of Medicine, New York, New York.
"Charleston et al report that the lowest flow dose (6 liters per minute) was most effective, with a 2-hour pain-relief rate of 88% and a 2-hour pain-free rate of 50%, but, though these rates of pain relief and pain freedom are high, caution in interpretation is required," Lipton told Medscape Medical News.
"The sample size is very modest with only nine patients in the 6-liter-per-minute treatment arm. In addition, the study lacks results from the group that got the sham device, making it difficult to contextualize the findings," Lipton said.
He added that it is unusual for higher doses to be less effective but that may be because air flow higher than 6 LPM is irritating to the nasal mucosa during migraine attacks.
Always a Need for Effective Nonpharmaceuticals
Also commenting on this study, Nina Riggins, MD, director of the Headache Center at the University of California San Diego, said she found the novel device "exciting and really clever."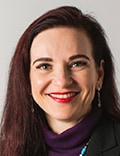 Dr Nina Riggins
"I really enjoyed reviewing this abstract because I am a big fan of SPG block in the palatine ganglion and when we do those, we basically apply numbing medication to decrease the sensation and discharges coming from this group of neural cells in order to decrease pain," Riggins said. "The procedure is very well tolerated and usually SPG blocks are used in patients when we do not want any side effects, such as in pregnant and postpartum women."
The novel technique has the potential to have fewer side effects than oral medications, she said.
"For example, the triptans are effective drugs but they constrict the blood vessels and we don't want to use them in people with heart disease or history of stroke. This is where these potentially safer devices can play an important role. We can have more options to offer our patients," Riggins said.
"So, I am super excited and looking forward to see what will come out of future research. I am really grateful that the authors are looking into new neuromodulation devices which can be so useful," she said.
Migraine is the second leading cause of disability worldwide, Riggins noted.
"It peaks in the years when people are most productive and affects families and communities. Medications are good, of course, but now with these novel devices, these are wonderful areas for research. Also now, we can offer so much more to people with migraine and other headache disorders," she said.
"When I started in the field, I remember we were very limited in resources, and now, it's just so wonderful."
The study was sponsored by CoolTech Corp LLC. Charleston reports financial relationships with Allergan/AbbVie, Amneal, Biohaven, Haleon, LinPharma, Satsuma and Teva, Amgen, and that he has received CME honoraria from the American Headache Society and the American Academy of Neurology. Lipton reports financial relationships with multiple pharmaceutical companies. Riggins reports no relevant financial relationships.
American Headache Society (AHS) Annual Meeting 2023. Abstract #P-198. Presented June 16, 2023.
For more Medscape Neurology news, join us on Facebook and Twitter.
Source: Read Full Article