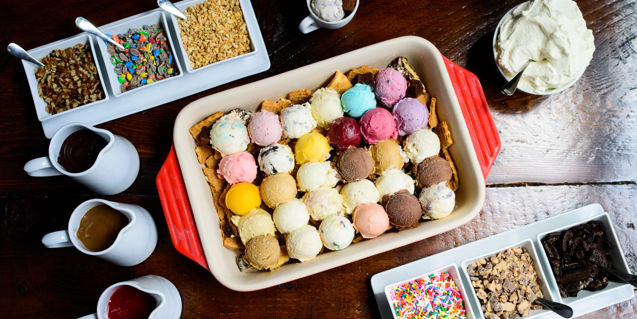 From banana splits to purple sundaes, these are the most delectable ice cream creations in each state.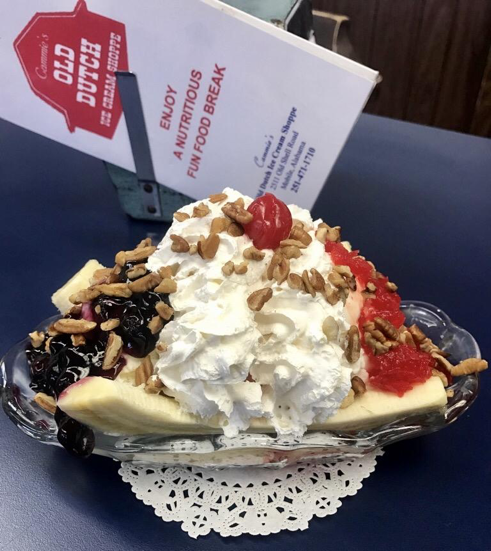 The American Holiday Banana Split can be found in Mobile and features vanilla and strawberry ice cream, crushed cherries, and blueberries.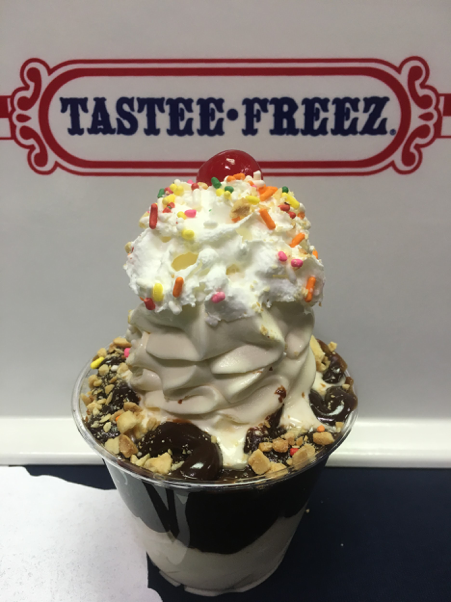 Have you seen anything more beautiful? The Hot Fudge sundae at the chain's Anchorage location includes soft-serve ice cream, hot fudge, whipped cream, granulated peanuts, rainbow sprinkles, and is topped with a cherry.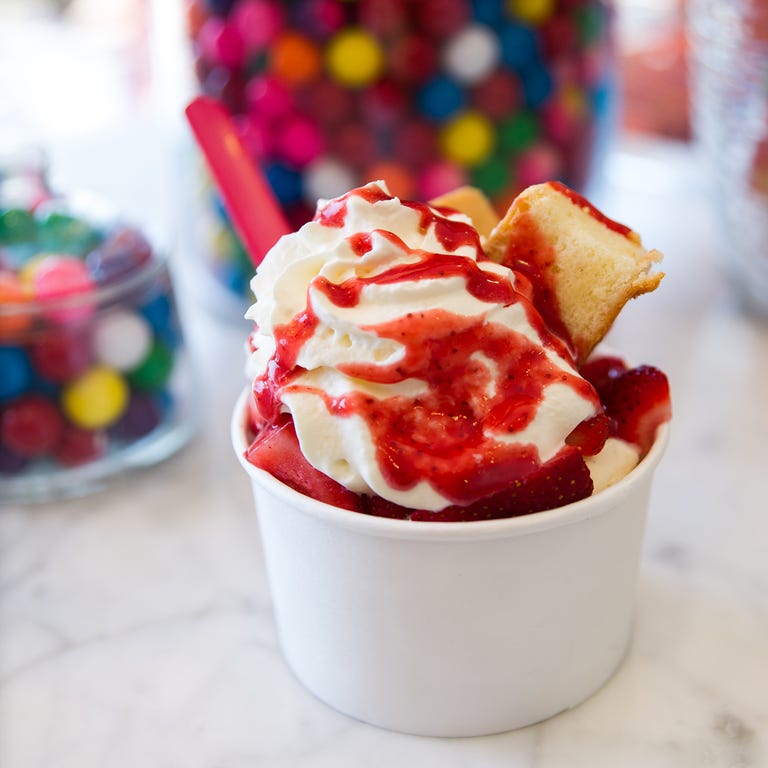 Your next road trip deserves a stop in Phoenix at Churn. Indulge in the Strawberry Shortcake sundae — vanilla and strawberry ice cream, fresh strawberries, strawberry sauce, shortcake, and whipped cream.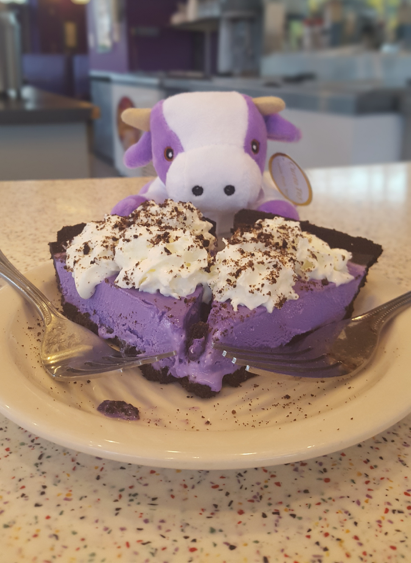 The Purple Cow in Little Rock is any purple lover's dream. Order the Purple Ice Cream Pie Sundae, made with purple vanilla ice cream on an Oreo crust and topped with whipped cream and Oreos.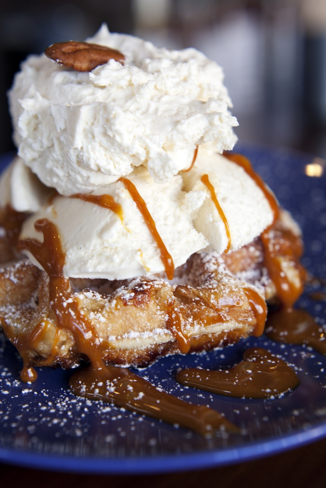 Try the Waffle Sundae at this well-known spot in Los Angeles. It's a firm waffle dusted with sugar, topped with scoops of ice cream, and covered in caramel drizzle. Add bacon for an extra savory flavor.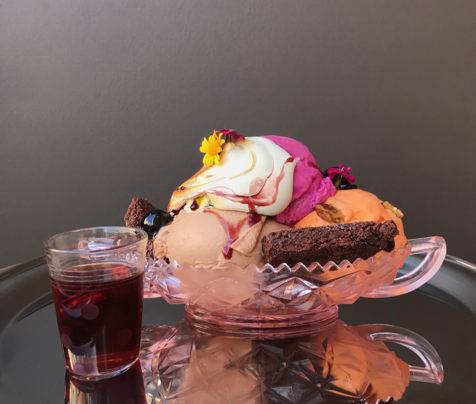 A "cow-to-cone" microcreamery, the Maroon Bells sundae in Denver includes three scoops of their signature flavors placed atop a home-baked fudge brownie. It's then topped with matcha green tea marshmallow sauce and Luxardo cherries and is served with Leopold Brothers Tart Cherry liqueur.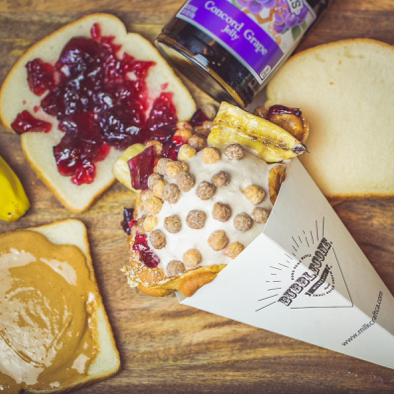 The PB&J Roasted Banana Sundae includes all-natural peanut butter, pure jam, and caramelized bananas. Try it at the shop's two locations, in Fairfield and West Hartford.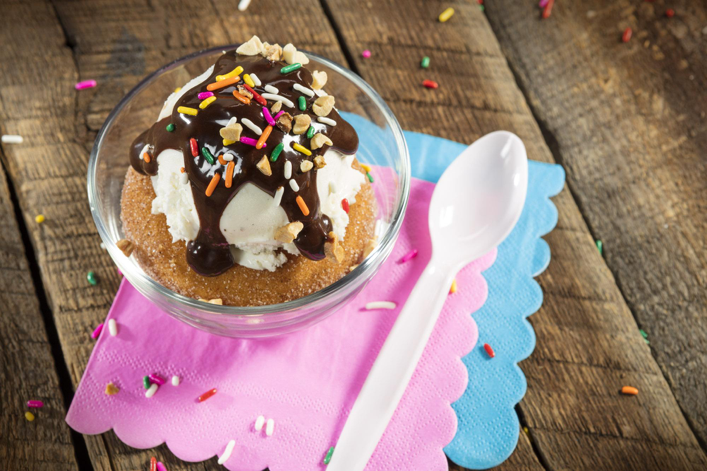 The Classic Donut Sundae at the chain's Newark location features peanuts, sprinkles, and fudge, all piled high over a warm, freshly-made donut.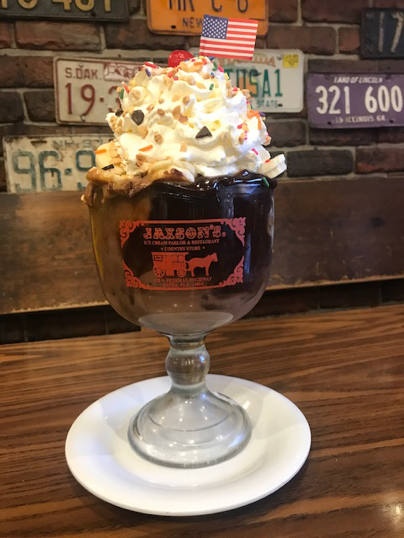 A highlight at this Dania Beach shop is the Chocolate-Peanut Gargantuan, made with chocolate and crunchy peanut butter ice cream, hot peanut butter fudge, fresh banana, chopped peanuts, and chocolate chips — all crammed into a goblet and topped with whipped cream and a cherry.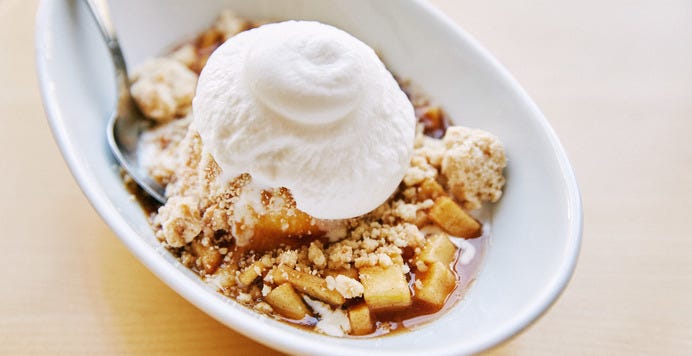 When in Atlanta, order the Apple Pie Sundae, a seasonal favorite made with roasted cinnamon apples, vanilla bean ice cream, salted caramel, candied pecans, and buttery pie crumb.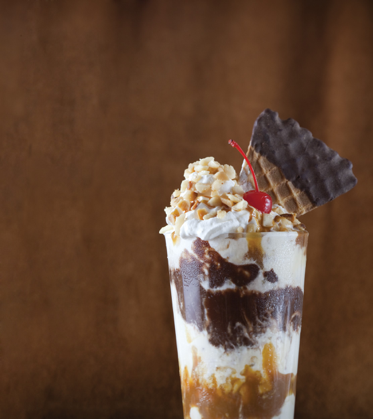 The Lava Tube Sundae in Hanapepe (one of the chain's five locations) is a must-have — chocolate fudge, caramel toppings, pick your ice cream flavors, and voila!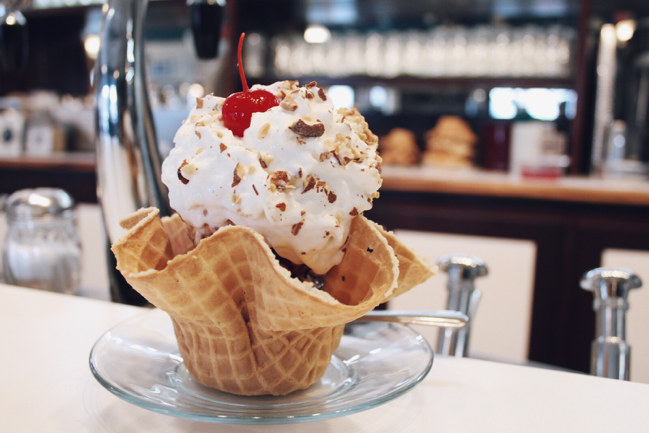 The Express-O-Ly Yours sundae at this Boise shop includes coffee ice cream — covered in your choice of topping — and is served in a waffle cone.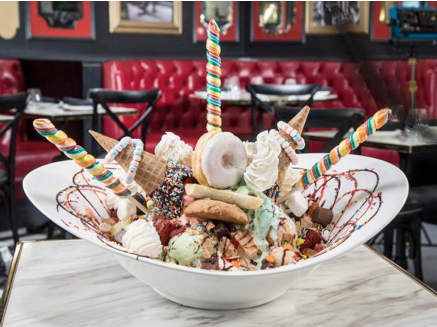 When in Chicago, stop by Sugar Factory for the ultimate sweet tooth craving: the King Kong Sundae, made with 24 scoops of ice cream and topped with chocolates, gummies, marshmallows, waffle cones, strawberry shavings, walnuts, chocolate and strawberry sauces, and more.
Zaharakos, with its old-school interior, has been around since 1900. When in Columbus, try the shop's signature sundae, the Big Z – five scoops of your favorite ice cream with three toppings.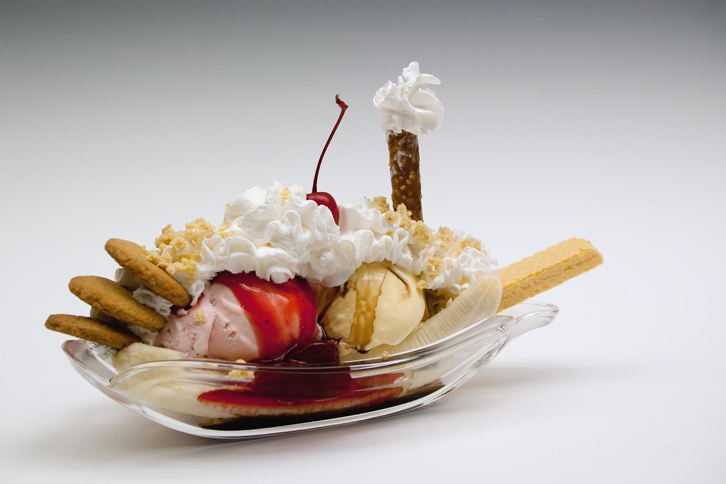 Order the Quad-Cities Special from Lagomarcino's in Davenport and Moline — a split banana, one scoop of vanilla and strawberry ice cream, strawberry and chocolate homemade toppings, whipped cream, a cherry, crushed nuts, and a cookie "paddle" wheel.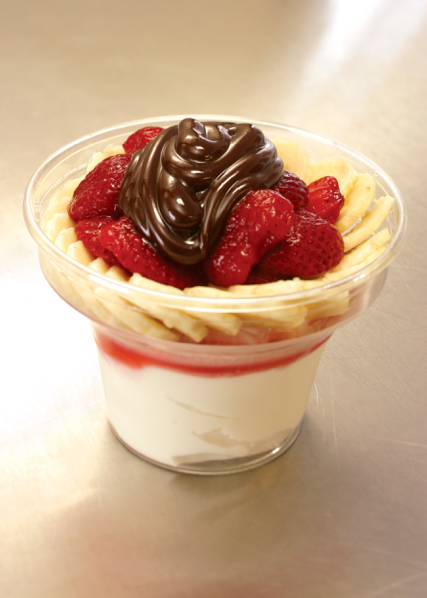 Order the All American sundae, served with vanilla custard, bananas, strawberries, and hot fudge, when you stop by this Overland Park hangout.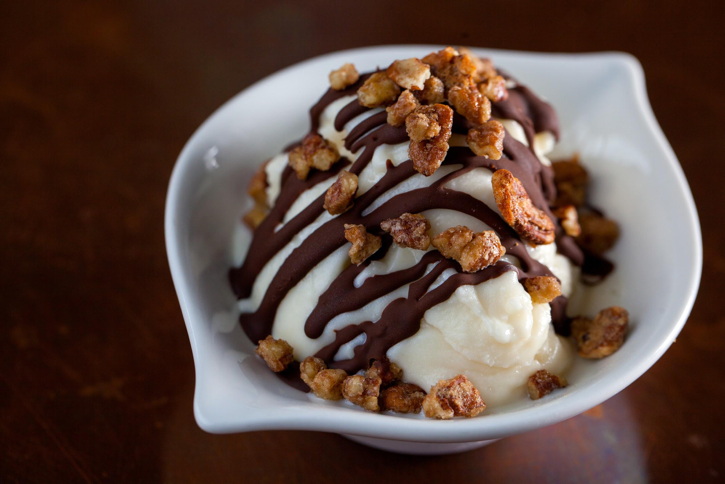 Taste the aged alcohol with this Bourbon Ball Sundae in Lexington. It comes with bourbon and honey ice cream, homemade chocolate bombe sauce, and is finished with candied pecans.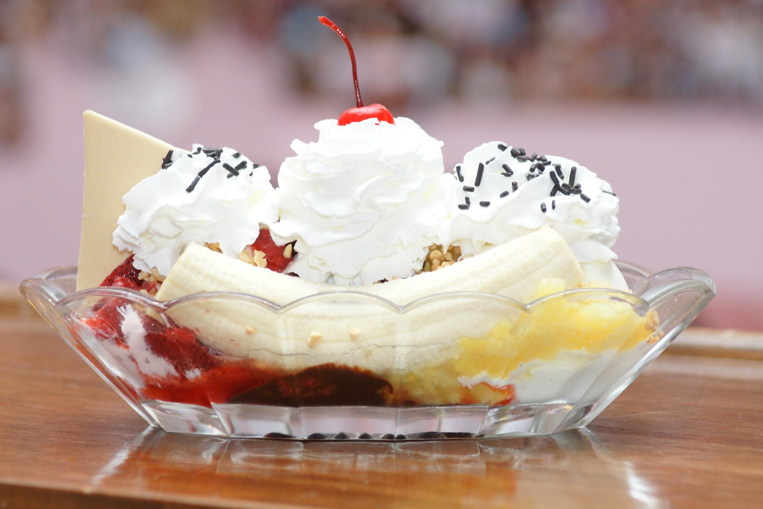 This Banana Split Sundae in New Orleans is a classic — vanilla, chocolate, and strawberry ice cream served between bananas and topped with hot fudge, strawberries, pineapple, nuts, whipped cream, a cherry, one wafer, and sprinkles.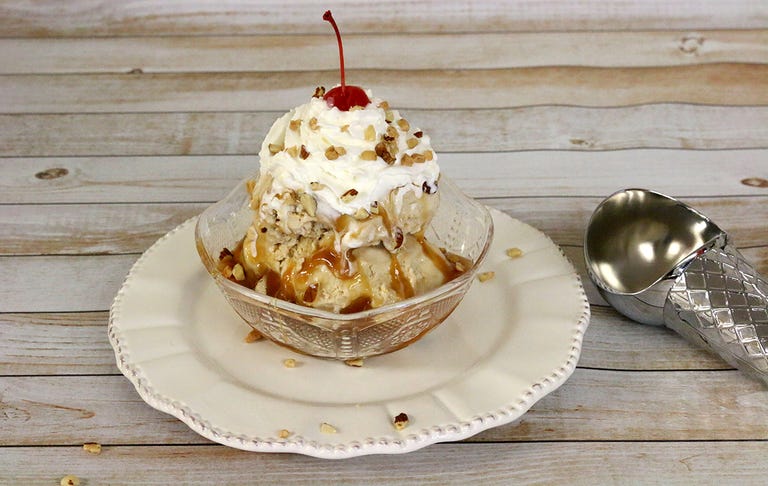 The These Boots are Made for Walking sundae at Gifford's Skowhegan location is a peanut-lover's dream: It includes peanut-butter pie ice cream, peanut butter topping, whipped cream, and a cherry.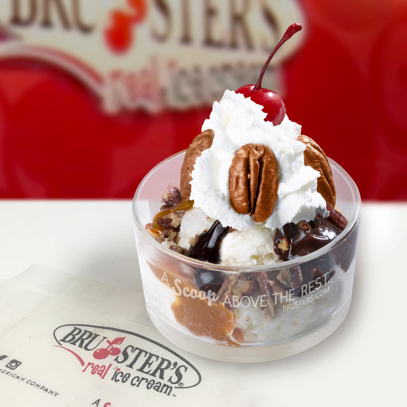 With locations throughout the state, Bruster's Turtle Sundae — fresh vanilla ice cream, hot fudge, caramel, whipped cream, and whole pecans — makes for an extremely comforting treat.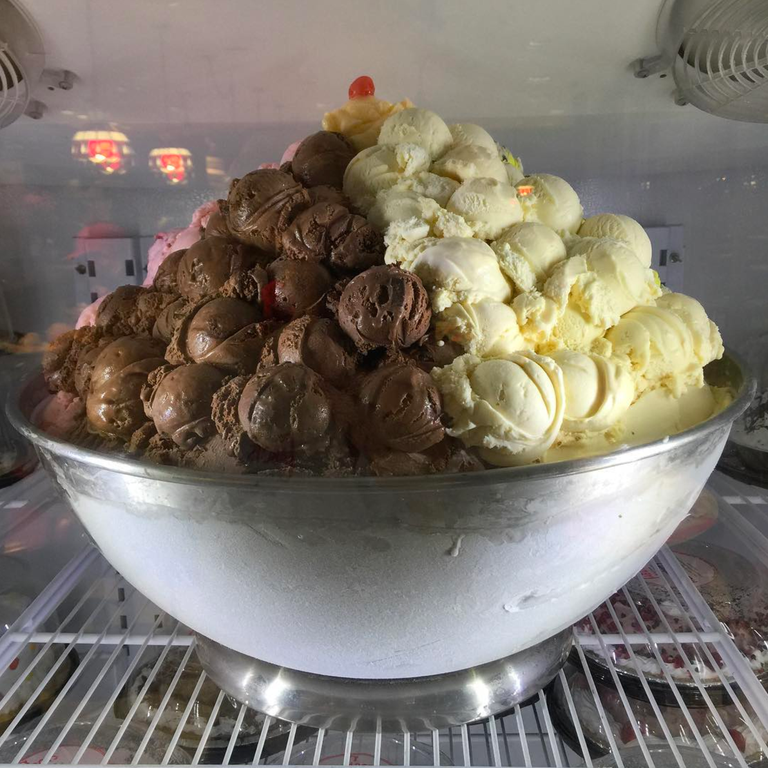 Bring a bunch of friends, and share the Great Pyramid Sundae in Newton, which includes a whopping 60 pints of ice cream, 12 quarts of topping, whipped cream, marshmallows, nuts, and cherries.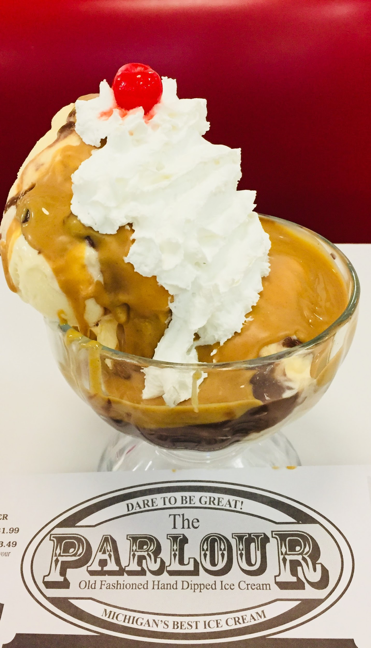 Next time you're in Jackson, make your eyes (and stomach) happy by indulging in The Parlour's Peanut Butter Cup Sundae. The frozen treat includes vanilla ice cream topped with homemade hot fudge, peanut butter, whipped cream, and a cherry.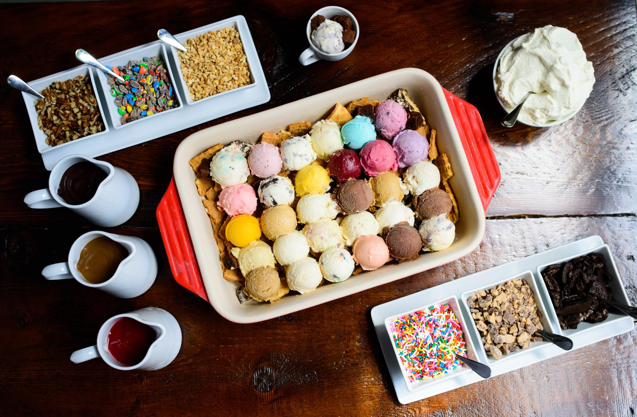 Izzy's, located in Minneapolis and Saint Paul, offers the Hot Dish sundae — 32 scoops of different ice cream flavors packed into one delicious dish, which also includes three sauces, seven candy and nut toppings, and homemade whipped cream.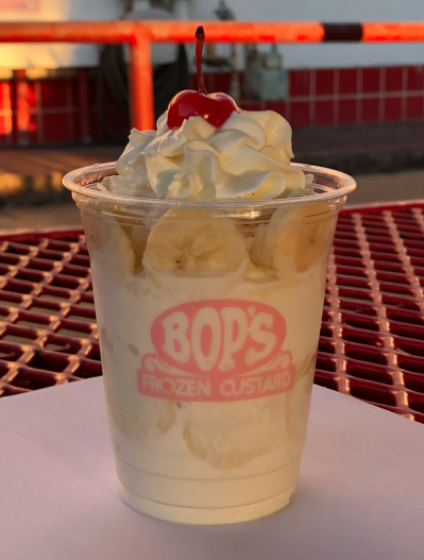 With eight locations in Mississippi, locals and tourists both recommend the Margaritaville Sundae. It's lavished with sliced bananas, pineapple, and coconut ice cream.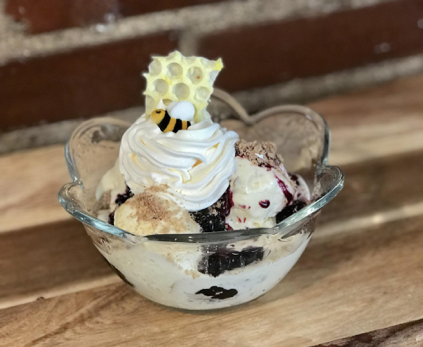 Managed by two-time winners of Food Network's Cupcake Wars, Casey Shiller and Dana Holland created Jilly's Ice Cream Bar in St. Louis, which is an addition to their Cupcake Bar and Café franchise next door. Try the Lemonberry Sundae, made with their Bee Sting ice cream and topped with blueberry, brown sugar streusel crunch, whipped cream, white chocolate honeycomb bark, and a sugar bee.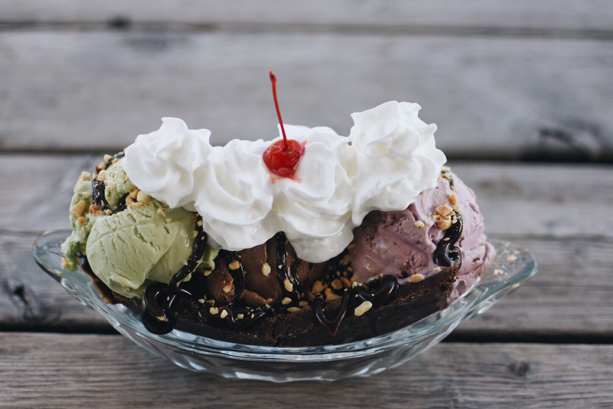 The Starship Brownie Sundae at this Missoula shop is guaranteed to take you out of this world. Choose your ice cream flavor, which is topped with chopped nuts, hot fudge, whipped cream, and a cherry.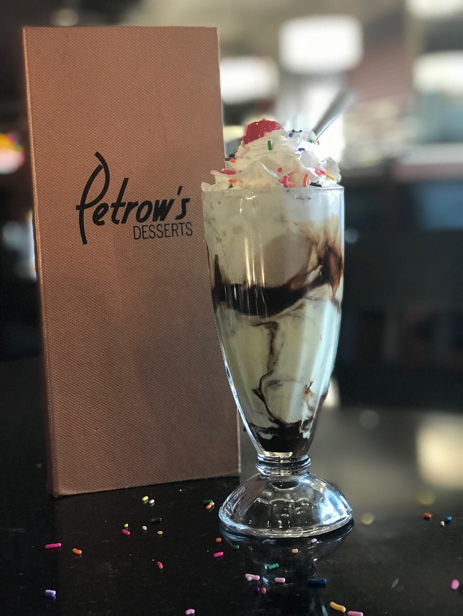 This Omaha restaurant's layered sundae, called the Original Clown, is no joke. It's filled with vanilla and chocolate ice cream, chocolate and marshmallow syrup, and sprinkled with Spanish peanuts.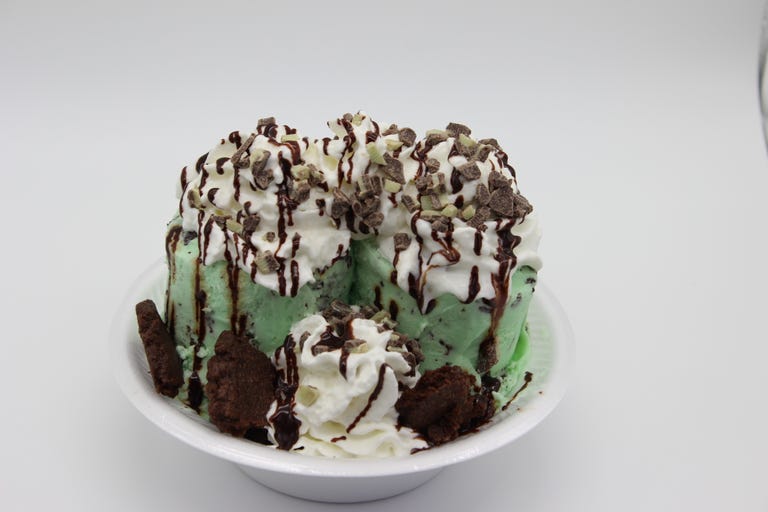 The Grasshopper Sundae features two scoops of mint chip ice cream with a brownie cookie, topped with whipped cream, Andes mints, and chocolate sauce.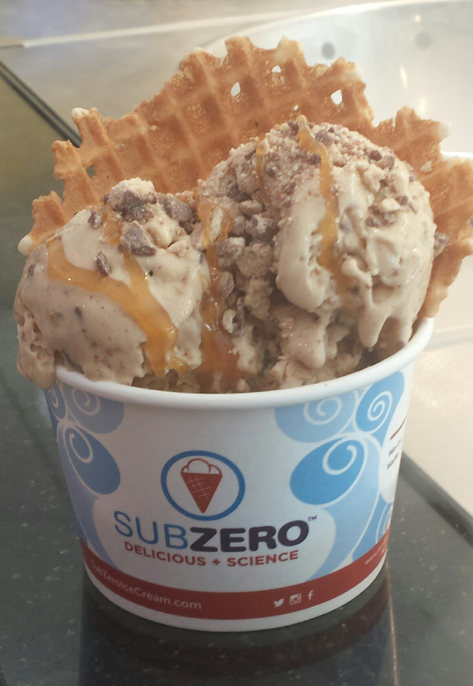 The Bernolli Brule at the chain's Nashua location wins the MVP of sundaes. It has caramel, vanilla, cinnamon, dulce de leche, Twix and Heath bars. Liquid nitrogen is used to make the delish treat.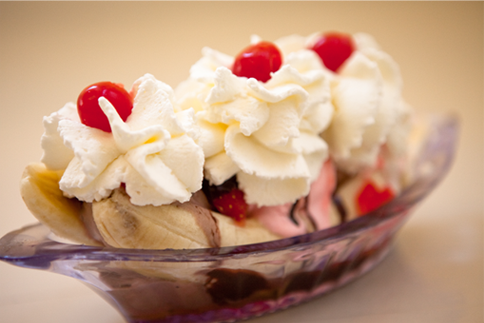 You can never go wrong with a classic Banana Split. This Stone Harbor classic is made with a ripe banana, three scoops of the shop's homemade ice cream, strawberries, pineapple, chocolate syrup, nuts, whipped cream, and, of course, cherries on top.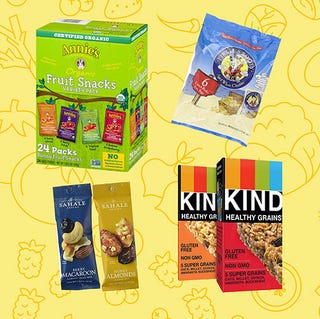 Source: Read Full Article