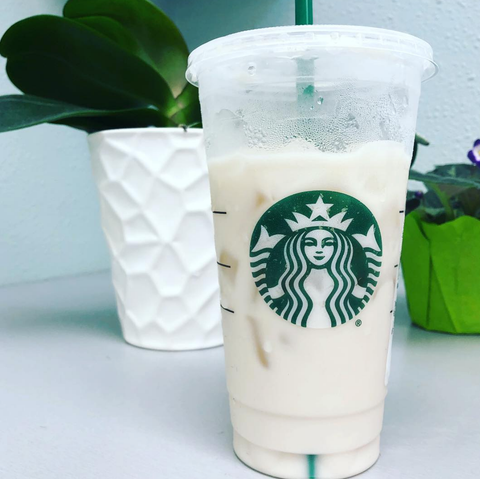 For Starbucks fans that are also following the Keto diet, there's a secret-menu drink that will refresh and satisfy, minus the carbs and sugar. The Peach Citrus White Tea is a spin-off of the chain's Peach Citrus White Tea Infusion.
The original is a blend of fruit and botanical flavors, featuring peach notes, mixed with Starbucks' Iced White Tea. According to Spoon University, the tea blend has zero carbs and zero sugar, but because of the added liquid sugar, it would normally be off-limits on the Keto diet.
The Peach Citrus White Tea, though, is totally Keto-friendly.
To order the keto-friendly drink, ask your barista for:
You can also try it blended! One Instagram user described the tea as "liquid peach cobbler." Another compared the tea to Disney's Peach Milk Tea from Epcot. Someone said they thought they'd been given the wrong drink, because it didn't taste sugar-free. They stopped at another Starbucks and ordered the same drink to compare, and realized it was not a mistake, but the that the "drink is straight up AMAZING."
So funny storyy…? I finally made it to Starbucks to try the famous keto friendly Peach Citrus White Tea thanks to the Genious @ketosony ??? So I order it exactly as pictured (exactly how @ketosony did) took one sip and OMG!!!???? I was like this can NOT be sugar free! I right away stopped drinking it thinking that the barista messed up my order and gave me the regular vanilla syrup cause it was pure DELICIOUSNESS!!❤❤❤❤ So I decide to stop at another Starbucks to order the same thing and compare the 2 and WOW!! It was not a mistake! This drink is straight up AMAZING!!???? Thank you so much for sharing this idea girlie!? *Swipe to see the way to order*➡️➡️➡️➡️➡️➡️➡️ #KeepingItKeto #Starbucks #PeachCitrusWhiteTea #SugarFreeVanilla #HeavyWhippingCream #Blended #Yummy #FitnessJourney #Keto #KetoDiet #Ketogenic #KetogenicDiet #Ketosis #LowCarb #LowCarbHighFat #LifestyleChange #WeightLossJourney
A post shared by Danielle (@daniellegoesketo) on
If you want to make Keto coffee at home, you can try this recipe. Even if you're not on the Keto diet, if you like peach flavor, the Peach Citrus White Tea sounds like a winner.
From: Delish
Source: Read Full Article